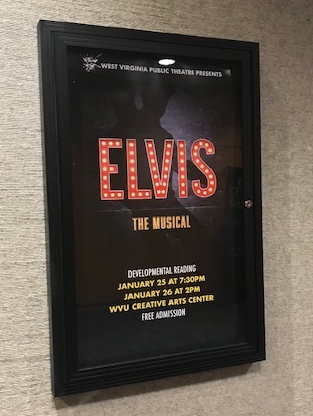 ELVIS: The Musical, featuring Presley's biggest hits, received a developmental reading at West Virginia University College of Creative Arts.  
[NEW YORK, NY, January 27, 2019] Stageworks Productions and Broadway Licensing recently developed ELVIS: The Musical, a new musical based on the life of Elvis Presley and featuring hit songs from the Elvis catalog.
This official Elvis Presley bio-musical was developed in partnership with ABG and Graceland and features a book by Sean Cercone and David Abbinanti (SATURDAY NIGHT FEVER) as well as music arrangements and orchestrations by Abbinanti.
The new musical explores the pivotal moments in Elvis's life through the perspectives of those who knew him best. Using different lenses to dig deeper into fact vs. fiction, ELVIS: The Musical spans from his impoverished childhood in Tupelo, Mississippi to his triumphant 1968 "Comeback Special," and his assent to be "The King." It features over 40 Elvis hits and iconic songs including, "That's All Right," "Blue Moon of Kentucky," "All Shook Up," "Heartbreak Hotel," "Burning Love," "Good Rockin' Tonight," "Earth Angel," "Hound Dog," "Don't Be Cruel," "Jailhouse Rock," "Are You Lonesome," and "Blue Suede Shoes".
The developmental workshop was presented in January with an industry presentation on January 25th and 26th. The reading was presented in partnership with The West Virginia Public Theatre and West Virginia University. Kent Nicholson directed the reading with David Pepin (WICKED) as Music Director.
"Elvis Presley's journey from desperate poverty to rock and roll super-stardom is a uniquely heroic tale," says Stageworks Producer, David Abbinanti. "We're honored to be working with Graceland and ABG to bring his story to the stage."
*
Stageworks is a production company dedicated to the full life-cycle (development, production, and distribution) of innovative live theatrical properties. Stageworks focuses on cultivating stories that speak to the universal truths of humanity, while collaborating with worldwide strategic partnerships to impact the global theatrical landscape.
Broadway Licensing is a full service theatrical partner specializing in the development, productions, and worldwide distribution of new and established theatrical properties. Broadway Licensing services the Playscripts collection and Stageworks Productions.
For more information about Stageworks Productions, call (212) 268-0602, visit stageworkspro.com, or email [email protected].
Follow Elvis on Facebook, Instagram, Snapchat and Twitter.
Media Contacts:
Stageworks Productions
Tralen Doler
212-268-0601
Authentic Brands Group
Michelle Ciciyasvili
646-380-5836
Francesca Cascardo
347-318-4950
[email protected]