Creators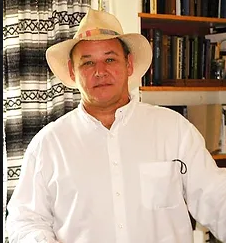 Book, Music & Lyrics Rick Compton leads the creative life since escaping from the corporate world in 1988. During his fifteen-year career as a...
Book, Music & Lyrics Betsy Bennett has theatre in her veins. At age ten, she was cast in her first show. It so captured her imagination, she...
Orchestrations
4 Musicians
Piano/Conductor
Reed
Bass
Drum
Casting
Casting Note
Performers can double multiple roles, and the musical is scored with optional ensemble harmonies.
The Man
Male - 55+
Active retiree. Everyman in Bermuda shorts. (Bari-tenor, C3-G4)
The Woman
Female - 55+
A frisky optimist with a sexy but…complicated past. (Alto, F3-Eb5)
Ray Roue'
Male - 55+
Ladies' man. Focused, but with a lack of direction. (Baritone, F3-E4)
Prudence
Female - 55+
Reclusive neighbor lady. (Mezzo, E4-G4 offstage)
Naomi Lipschitz-Yamamoto-Murphy
Female - 55+
Nicotine-drenched resident director for holiday activities. Perennially searching for the next hyphen for her last name. Auditions for her Holiday Extravaganza are, in fact, less casting couch than she might hope. (Alto, D3-A4)
Adipose Rex
Male - 55+
A man with metabolic issues. (Tenor, E3-F4)
Twiggy
Female - 55+
An ironic name. (Alto/Mezzo, F4-A4 offstage)
Query Fairy
Female - 55+
A spinster quiz mistress who always takes first prize…and second prize…and third. (Alto/Mezzo, A3-B4)
Zimmer
Male - 55+
Smooth; a back-up singer as one of the Pips…the one on the left. (Bari-tenor, C#3-D4 offstage)
The Lawyer
Male - 55+
Half-Southern Baptist preacher, half-used car salesman, half-carney.
Nurse
Female - Any age
Never met a problem a pharmaceutical couldn't fix. (Alto-Mezzo, Eb3-F5)
Doctor
Male - Any age
Your college drug dealer who now has a medical degree. (Baritone, G3-D4)
Ben Younger
Male - 55+
Over-the-top, over-the-hill night club comedian.
Country Club Woman
Female - 55+
Former cheerleader turned Junior Leaguer turned retiree. (Alto/Mezzo, B3-C5)
Country Club Man
Male - 55+
Retired captain of industry looking for a new ship to captain. (Baritone, Bb3-E4)
Skii
Male - 55+
Newly-relocated Northern man. (Bari-tenor, G3-E4)
Knippy
Female - 55+
Newly-relocated Northern woman. (Alto, Bb3-G4)
Rocky
Male - 55+
Former rock-n-roll roadie who wants to…deliver the goods. (Baritone, Bb3-Eb4)
Dopey Barker
Male - 55+
A man who reads the prescription labels…but wishes he hadn't. (Bari-tenor, B3-E4)
O'Hennrietta
Female - 90+
A benevolent opportunist.
Nick Dent
Male
A guy who likes to take a drive. Both his blues and his driving are reminiscent of Ray Charles.
Kaye Marte
Female
Offstage. The voice of practicality.
Production Materials
Included in your license are the following cast and crew scripts. These materials will be shipped upon receipt of payment if your license request is approved.
18 Cast Script/Vocal Books
A combination of the show's full script and the full vocal book. All dialogue within each song is printed in the score to prevent flipping back and forth during rehearsals. All books are spiral-bound and double-sided.
2 Director's Scripts
A single-sided, spiral-bound script designed with plenty of space for the director to take notes and add blocking during the rehearsal process.
1 Stage Manager's Script
A single-sided, three-hole punched script that can be inserted into your three-ring binder.
1 Piano/Conductor Score
A keyboard score that is a key part of the show's actual orchestration. This score contains both vocal parts and a cue staff, which guides the conductor through the full orchestration by informing them when instruments enter the song, as well as providing specific part lines when necessary.
1 Piano/Vocal Score
This piano score includes all vocal parts. It can be used during the rehearsal process and during performance.
Instrumentation
Conductor/Piano, Bass, Drum, Reed (Flute, Clarinet, Alto Sax, Baritone Sax)
Promotional Resources Official Logo Pack
Included with license
Includes color and black and white high-resolution logo files in JPG, PNG, and EPS formats.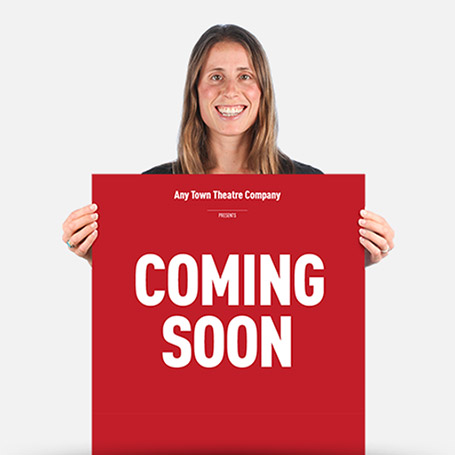 Official Show Artwork
$175
Creating artwork for your performance has never been easier – customize online in minutes, download a print-ready PDF, order printed posters, access layered files. Social Media Marketing Kit
$250
Includes everything you need to plan and implement the promotion of your show – 50+ graphics for social media, original show specific content, social media guide, promotion calendar and press release template.
Production Resources
Performance Tracks
Our top-quality digital performance tracks are sent to you through a simple link. Quickly download them to your computer, tablet or smartphone and start rehearsing!
$200
Full Conductor Score
An ideal solution for those who choose to conduct their show from the podium, as opposed to the piano. Each detailed instrument staff is always right in front of you--giving you the most comprehensive layout for full control of your orchestra.
$125/Print, $100/Digital, $175/both
Digital Orchestration Parts
Prefer playing or rehearsing from your tablet? All of our orchestration scores (including PC and PV) are available in digital copies.
Digital PC or PV $50
Full Digital Orchestration Set $150
Broadway Plus
A workshop experience in which a Broadway artist speaks and works with students in an educational setting through our partnership with Broadway Plus.
Prices Vary by Product
TurnKey Transpositions
Broadway stars change the keys of songs all the time...so why not you? Optimize your actors' performances by ordering our TurnKey Transposition. Get the perfect key for the perfect actor! All digital delivery, usually within 24 hours.
$50 per song for PV or PC
$150 per song for all orchestral parts (including PC/PV)
Also Available