A Christmas Carol

This brand-new musical retelling of Charles Dickens's holiday classic follows the miserly Ebenezer Scrooge as he is visited by three spirits on Christmas Eve. They take him on a tour of his past, present, and future in order to change the man he is into the man he must become. The lushly orchestrated Broadway-style score by Steve Parsons and witty lyrics by John Popa breathe new life into the beloved tale. This brand new adaptation is even more epic, magical, and joyous than the story of Christmas redemption you thought you knew.

Roles
8W, 12M, Ensemble

Musicians
11

Acts
2

Duration
2 hours 15 minutes
Creators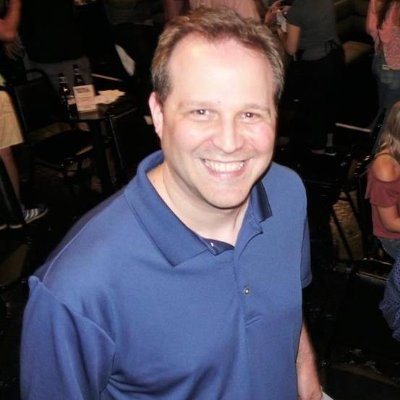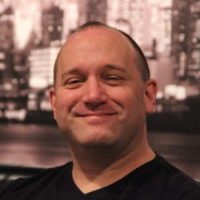 Music Steve Parsons is an award-winning composer, orchestrator, and music director. His composing credits include Evensong (for choir and orchestra), Seascapes (RBC...
Reviews
"In both melodic and lyrical presence, the music has all the memorable variety and impact of the finest Broadway musical literature."
Tom Wachunas
Artwatch
---
"…this Christmas Carol is a full-bodied and always engaging story about personalities, relationships, actions and consequences."
Dan Kane
The Repository
---
Orchestrations
12 Musicians
Bass
Cello
Horn
Keyboard 1
Keyboard 2
Percussion
Reed 1
Reed 2
Trombone
Trumpet
Violin
Casting
Ebenezer Scrooge
Male - 50s or older
Scrooge is a grumpy old man who's buried a lot of memories by focusing only on his work and material success. Vocal Range: A2 – F#4
Bob Cratchit
Male - 30+
Bob is a good-natured and hard-working man, doing his best to stay positive while supporting a large family and working for a difficult boss. Vocal Range: C3 – Gb4
Fred
Male - 20+
Fred is the opposite of his uncle Scrooge— upbeat and optimistic, he celebrates his life, even though he's not well off financially. Vocal Range: C3 – G4
Young Ebenezer
Male - Late teens-early 20s
Unlike his older self, Young Ebenezer tempers his drive to succeed with a dash of wide-eyed romance. Vocal Range: C3 – G4
Belle
Female - Late teens-early 20s
Belle is the girl of Young Ebenezer's dreams, who falls for him but is strong and independent enough to walk away when he chooses work over her. Vocal Range: B3 – E5
Elizabeth
Female - 20+
Elizabeth is Fred's better half, confident and strong, a modern woman who isn't afraid to let her voice be heard. Vocal Range: B3 – E5
Tiny Tim
Male - 8-12
Tiny Tim is Cratchit's partially crippled son who still believes in everything around him, despite his physical condition. Vocal Range: D4 – D5
Ghost of Christmas Past
Female - Late teens+
The Ghost seems soft and airy, but her seemingly abstract questioning of Scrooge jogs memories intentionally pushes him to address memories he'd be happier to push aside. Vocal Range: B3 – F5
Ghost of Christmas Present
Male - Adult
Loud and boisterous, The Ghost lives in the moment but mixes his good nature with a serious understanding of the weight of time. Vocal Range: Ab2 – Gb4
Jacob Marley
Male
The ghost of Jacob Marley shows the tragic end of a life lived like Scrooge's. He deals in heavy emotions at all times— anger and anguish mostly. Vocal Range: C#3 – Eb4
Old Joe
Male
Old Joe is a street person with a wicked sense of humor who's not afraid to engage in some dirty business. Vocal Range: A2 – E4
Molly
Female
The female equivalent of Old Joe. Vocal Range: A3 – C5
Collecting Men 1-3
Male
The Collecting Men are somewhat lovable fops who finish one another's sentences and have their sales pitch down to a science. Vocal Range: Man 1, Bb2 – F4; Man 2, Bb2 – Bb4 (falsetto;) Man 3, Bb2 – F4
Mr. Fezziwig
Male - 40+
Mr. Fezziwig is a huge personality who is loved by all and who wants nothing more than to share his success with everyone around him. Vocal Range: C3 – E4
Mrs. Fezziwig
Female - 40+
Much like Mr. Fezziwig, Mrs. Fezziwig is a big personality who turns everything she touches into a celebration. Vocal Range: C4 – D5
Mrs. Dilber
Female - 50+
Scrooge's miserable housekeeper who runs with a rougher crowd than Scrooge probably knows. Vocal Range: A3 – C5
Mrs. Cratchit
Female - 30+
Bob Cratchit's supportive wife and mother to their large brood. Vocal Range: A3 – D5
Martha Cratchit
Females - Older teen+
Bob Cratchit's oldest child who has moved out but who makes it home for Christmas, knowing how important it is to the family. Vocal Range: C4 – E5
Belinda Cratchit
Female - Pre-teen
Bob Cratchit's younger daughter. Vocal Range: A3 – A4
Willie Cratchit
Male - Pre-teen
Bob Cratchit's younger son. Vocal Range: A3 – A4
Peter Cratchit
Male - Early teens
Bob Cratchit's oldest son, on the brink of adulthood but not quite there yet. Vocal Range: C3 – D4
Boy Scrooge
Male - Pre-teen
Scrooge as a child is sullen and lonely, mostly content to bury himself in books rather than engage the world around him. Vocal Range: Non-singing role
Fan
Female - Pre-teen
Scrooge's slightly older sister, her warmth is such that she can make even Boy Scrooge's saddest day better. Vocal Range: Non-singing role
Clara
Female - Early 20s
A guest at Fred's party and one object of Topper's affections. Vocal Range: F4 – C5
Cora
Female - Early 20s
Another guest at Fred's party and another object of Topper's affections. Vocal Range: F4 – C5
Bessie Fezziwig
Female - Older teen
Mr. Fezziwig's pretty daughter. Vocal Range: Sings only with the ensemble
Topper
Male - 20+
Fred's somewhat rowdy but entertaining friend. Vocal Range: Bb2 – D4
Turkey Boy
Male - Pre-teen
A boy Scrooge meets on the street who is sent on an errand. Vocal Range: Non-singing role
Dick Wilkins
Male - Late teen-early 20s
Young Ebenezer's best friend, an outgoing and confident young man. Vocal Range: C3 – F4
Rogues' Song Soloist #1
Female
A homeless person, lost and alone in the streets at night. Vocal Range: A3 – C#5
Rogues' Song Soloist #2
Male
A homeless person, lost and alone in the streets at night. Vocal Range: F#3 – E4
Ignorance
Male - Pre-teen
A creepy phantom of a child that torments Scrooge. Vocal Range: Non-singing role
Want
Female - Pre-teen
Vocal Range: Non-singing role
Production Materials
Included in your license are the following cast and crew scripts. These materials will be shipped upon receipt of payment if your license request is approved.
25 Cast Script/Vocal Books
A combination of the show's full script and the full vocal book. All dialogue within each song is printed in the score to prevent flipping back and forth during rehearsals. All books are spiral-bound and double-sided.
2 Director's Scripts
A single-sided, spiral-bound script designed with plenty of space for the director to take notes and add blocking during the rehearsal process.
1 Stage Manager's Script
A single-sided, three-hole punched script that can be inserted into your three-ring binder.
1 Piano/Conductor Score
A keyboard score that is a key part of the show's actual orchestration. This score contains both vocal parts and a cue staff, which guides the conductor through the full orchestration by informing them when instruments enter the song, as well as providing specific part lines when necessary.
1 Piano/Vocal Score
This piano score includes all vocal parts. It can be used during the rehearsal process and during performance.
Instrumentation
Bass, Cello, Horn, Keyboard 1, Keyboard 2, Percussion, Reed 1, Reed 2, Trombone, Trumpet, Violin
Promotional Resources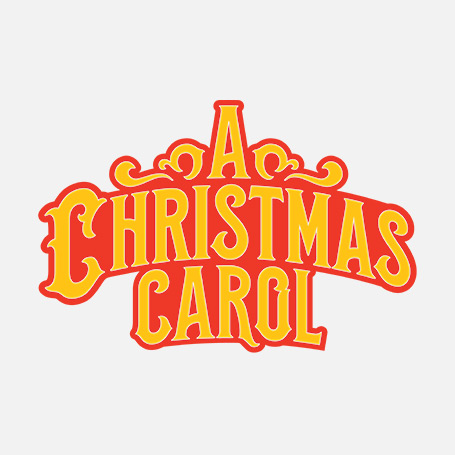 Official Logo Pack
Included with license
Includes color and black and white high-resolution logo files in JPG, PNG, and EPS formats.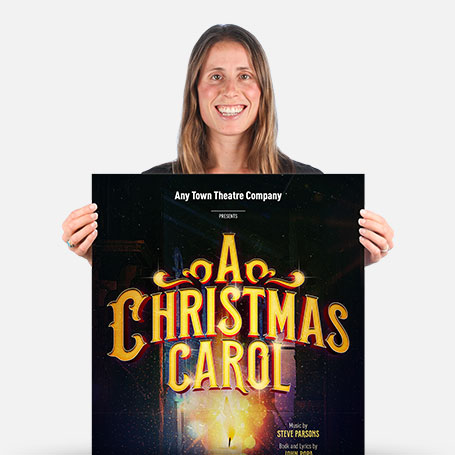 Official Show Artwork
$175
Creating artwork for your performance has never been easier – customize online in minutes, download a print-ready PDF, order printed posters, access layered files.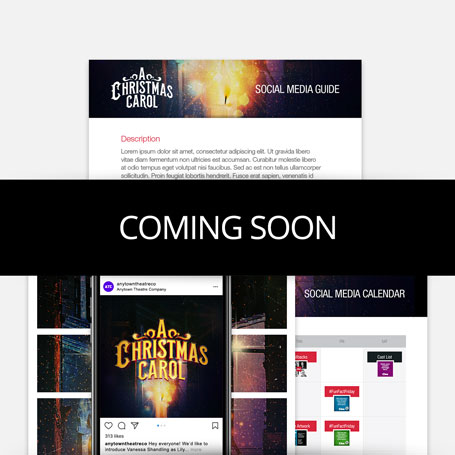 Social Media Marketing Kit
$250
Includes everything you need to plan and implement the promotion of your show – 50+ graphics for social media, original show specific content, social media guide, promotion calendar and press release template.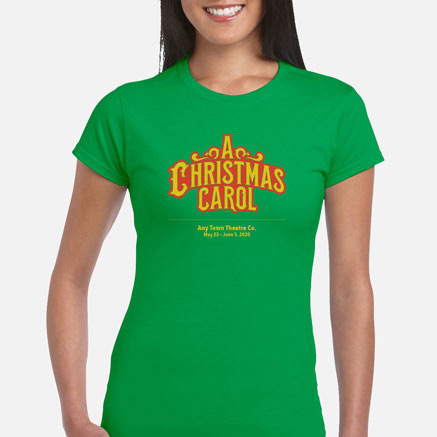 Cast & Crew T-Shirts
As low as $14 each
Broadway Licensing has partnered with Subplot Studio to offer premium-quality Cast & Crew T-Shirts! You can add your theatre name, show dates and even your cast & crew names on the back.
Production Resources
Additional Books
Additional books (Cast Script/Vocal, Piano/Conductor, etc.) are available.
$25 each
Full Conductor Score
An ideal solution for those who choose to conduct their show from the podium, as opposed to the piano. Each detailed instrument staff is always right in front of you--giving you the most comprehensive layout for full control of your orchestra.
$125/Print, $100/Digital, $175/both
Digital Orchestration Parts
Prefer playing or rehearsing from your tablet? All of our orchestration scores (including PC and PV) are available in digital copies.
Digital PC or PV $50
Full Digital Orchestration Set $150
Broadway Plus
A workshop experience in which a Broadway artist speaks and works with students in an educational setting through our partnership with Broadway Plus.
Prices Vary by Product
TurnKey Transpositions
Broadway stars change the keys of songs all the time...so why not you? Optimize your actors' performances by ordering our TurnKey Transposition. Get the perfect key for the perfect actor! All digital delivery, usually within 24 hours.
$50 per song for PV or PC
$150 per song for all orchestral parts (including PC/PV)
Credits
Music by
Steve Parsons
Book and Lyrics by
John Popa
Based on the Novella by
Charles Dickens
CASTING NOTES: The show was developed with the cast doublings listed below in mind. While not required, they do often create some dramatic parallels (and give the actors something to do in each act).
Ghost of Christmas Past/Mrs. Cratchit
Ghost of Christmas Present/Mrs. Fezziwig
Boy Scrooge/Peter Cratchit
Setting: London, England, 1843
Also Available