The Nightmare Story

Licensing materials available December 2023.

The Nightmare Story is the tale of a boy who ventures into the unknown to find a cure for his mother's rare disease… before it's too late.

Roles
5M

Musicians
5

Acts
1

Duration
60 minutes
Creators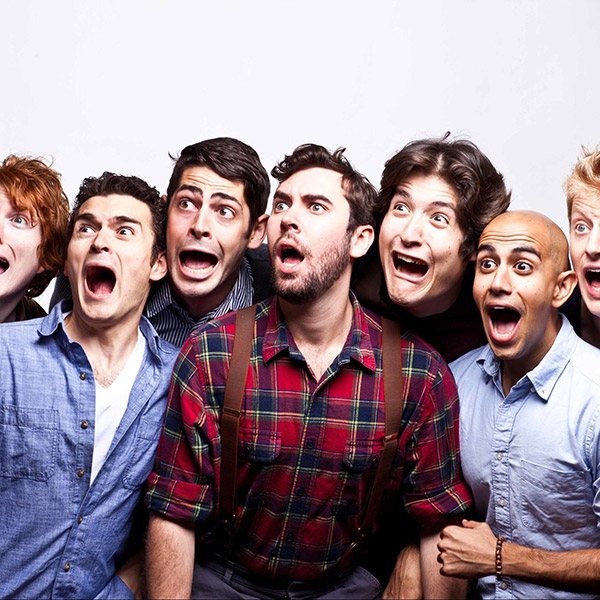 Book, Music and Lyrics PigPen Theatre Co. began creating their unique brand of theatre, music, and film as freshmen at the Carnegie Mellon School of Drama in 2007. They have since produced their original plays in New York City and toured the country –...
Videos
Photos
Orchestrations
5 Musicians
Actor 1 (Accordion), Actor 2 (Banjo), Actor 3 (Guitar), Actor 4 (Percussion), Actor 5 (Violin)
Casting
Casting Note
A note from PigPen: Cast the story however you like - with as many or as few performers as you have available. The original production was built around five of PigPen's founding ensemble members and the roles were distributed as follows:
Actor 1
Male
VALENTINE: The eldest of the brothers Strashilki and the main narrator of the tale. Puckish and charming with a hint of romance.
Actor 2
Female/Male
VANYA: Another brother. Silly and smiley.
LITTLE GIRLS FATHER: The father of Mama. Deeply disturbed by his daughter's imagination.,
TRAVELERS
DOCTOR: A doctor from the nearest town. Professional with no bedside manner.
DEVOTCHKA: Malchik's sister. Also hiding from the wolf.
Actor 3
Female/Male
VOVA: Another brother. Irritable and strict.
TALL MAN: A tall man with bright teeth.
LITTLE GIRLS MOTHER: The mother of Mama. Scared of her own child.
HUNTER: Deeply suspicious. Loves his brother.
Actor 4
Male
BOY: A young boy in love with hearing his mother's stories. He is naive and excitable and willing to do anything to save her.
Actor 5
Female/Male
VASYA: Another brother. Smart and musical.
LITTLE GIRL: The boy's mama when she is younger. Obsessed with macabre tales that she tells with excitement and sincerity.
MAMA: The Boy's mother who has a rare nightmare disease. She is kind and gentle despite being plagued with horror filled dreams.
BOBBY: The hunter's brother. Trusting and full of song.
MUSICIAN: Enigmatic, wistful, and slightly off kilter.
Production Materials
Included in your license are the following cast and crew scripts. These materials will be shipped upon receipt of payment if your license request is approved.
4 Cast Script/Vocal Books
A combination of the show's full script and the full vocal book. All dialogue within each song is printed in the score to prevent flipping back and forth during rehearsals. All books are spiral-bound and double-sided.
2 Director's Scripts
A single-sided, spiral-bound script designed with plenty of space for the director to take notes and add blocking during the rehearsal process.
1 Stage Manager's Script
A single-sided, three-hole punched script that can be inserted into your three-ring binder.
2 Piano/Conductor Scores
A keyboard score that is a key part of the show's actual orchestration. This score contains both vocal parts and a cue staff, which guides the conductor through the full orchestration by informing them when instruments enter the song, as well as providing specific part lines when necessary.
Instrumentation
For this show, the Piano/Conductor score is the full score - no piano.

Production Resources
Additional Books
Additional books (Cast Script/Vocal, Piano/Conductor, etc.) are available.
$25 each
Full Conductor Score
An ideal solution for those who choose to conduct their show from the podium, as opposed to the piano. Each detailed instrument staff is always right in front of you--giving you the most comprehensive layout for full control of your orchestra.
$125/Print, $100/Digital, $175/both
Digital Orchestration Parts
Prefer playing or rehearsing from your tablet? All of our orchestration scores (including PC and PV) are available in digital copies.
Digital PC or PV $50
Full Digital Orchestration Set $150
Broadway Plus
A workshop experience in which a Broadway artist speaks and works with students in an educational setting through our partnership with Broadway Plus.
Prices Vary by Product
TurnKey Transpositions
Broadway stars change the keys of songs all the time...so why not you? Optimize your actors' performances by ordering our TurnKey Transposition. Get the perfect key for the perfect actor! All digital delivery, usually within 24 hours.
$50 per song for PV or PC
$150 per song for all orchestral parts (including PC/PV)
Official Show Links
Also Available