Jimmy Buffett's Escape to Margaritaville (High School Edition)

Jimmy Buffett's Escape to Margaritaville is a musical comedy featuring the most-loved Jimmy Buffett classics, including "Cheeseburger in Paradise", "Margaritaville," "It's Five O'Clock Somewhere," "Fins," "Volcano," and many more. With a book by Emmy Award winner Greg Garcia ("My Name is Earl," "Raising Hope") and Emmy nominee Mike O'Malley ("Survivor's Remorse," "Shameless"), this hilarious, heartwarming musical is the party you've been waiting for!

Scenic and costume package rental available: visit Troika for inquiries.

Roles
3F, 3M + Ensemble

Musicians
9

Acts
2

Duration
2 hours 15 minutes
Creators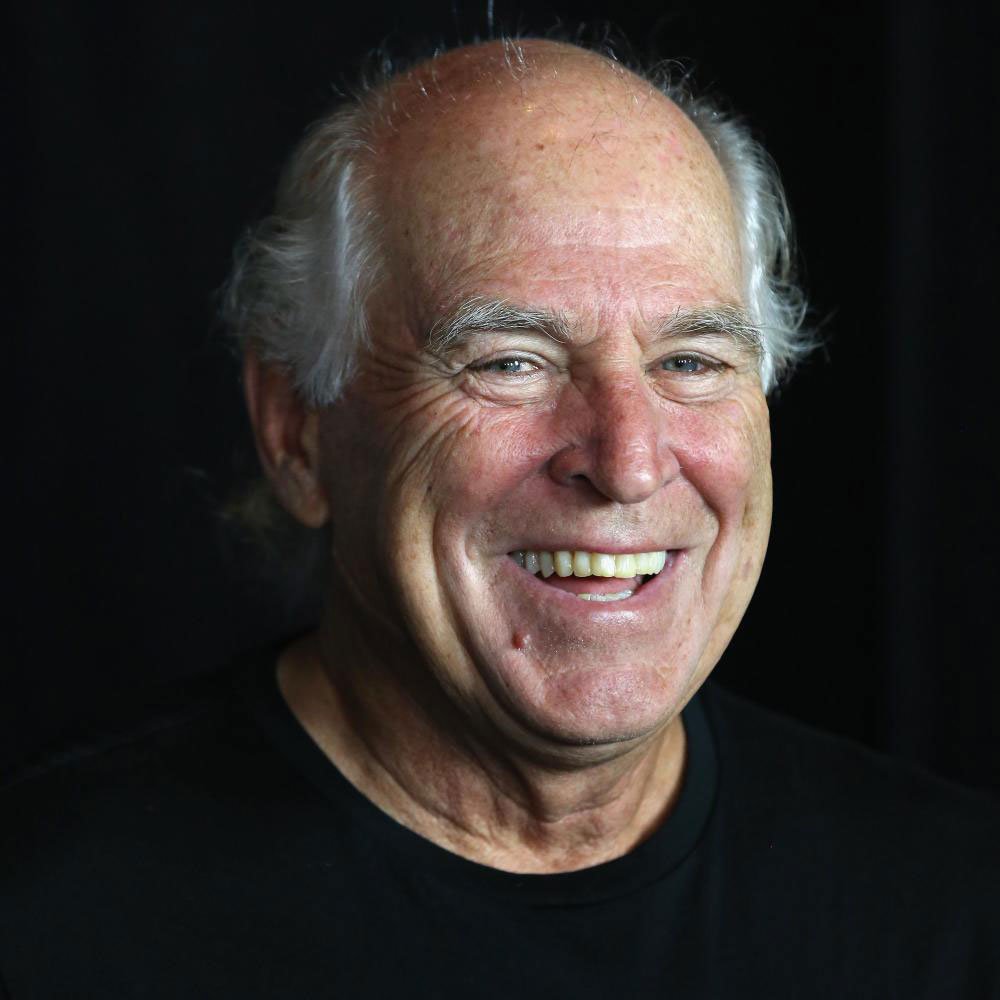 Composer/Lyricist Singer/songwriter/author Jimmy Buffett has become a legend of popular culture as the composer of such classic songs as "Margaritaville," "Come Monday" and "Cheeseburger in...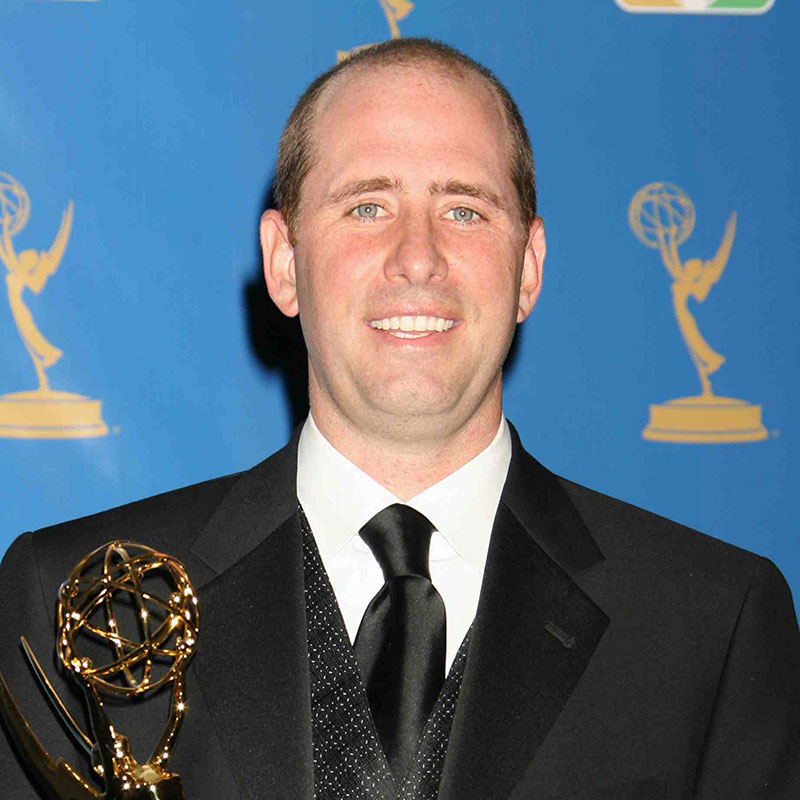 Book Greg Garcia created three back-to-back syndicated comedies: Yes, Dear, My Name is Earl and Raising Hope. For his work on these shows he has received a Humanitas Award, a People's...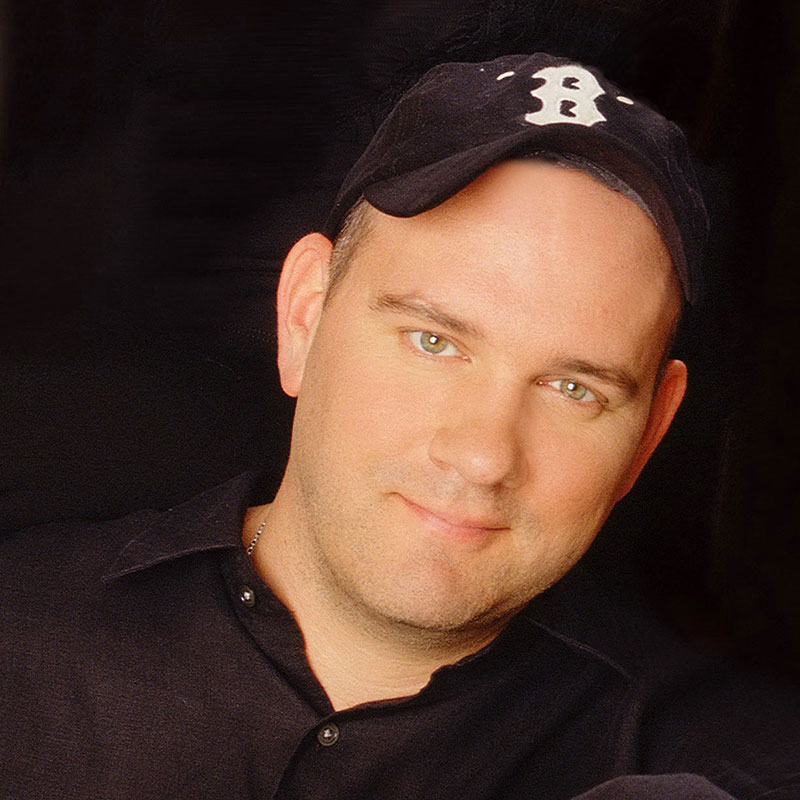 Book Is the creator of the award-winning television series "Survivor's Remorse" on Starz. He also wrote on Showtime's "Shameless" for the first four seasons. As an actor, he was nominated for an Emmy...
Videos
Photos
Reviews
"A little slice of paradise!"
USA Today

---
"It will knock your flip-flops off!"
Entertainment Weekly

---
Orchestrations
8 Musicians
Keyboard 1/Conductor
Bass
Drums
Guitar 1
Guitar 2
Percussion 1/Percussion 2
Reed
Trumpet
Casting
Tully
Male
Smooth-talking, self-deprecating playboy. He's completely content with the life he's chosen as the singer/bartender at a tropical resort, until he meets Rachel, a vacationer who upends his heart. Guitar skills are useful.
Rachel
Female
Fully committed to her job and helping the world. Willing to put in as many hours of hard work as it takes and expects everyone else to do that same. Suspicious of fools and operators, Rachel is not easily distracted from her life plan.
Tammy
Female
Loyal friend to Rachel. Sees the best in people and has a zest for life that is often squelched by her fiance, Chad. Her low self-esteem manifests itself as denial in her own life.
Brick
Male
The Island bartender. Has a big heart and a good friend to Tully. Not the brightest bulb, but sensitive and thoughtful.
Marley
Female
No-nonsense and assertive with an island accent. She runs the resort and keeps everyone in check, but clearly cares about her employees, her customers, and J.D., an older island denizen. Great singer.
J.D.
Male
A funny, endearing older man who always has a parrot on his shoulder. He's losing his vision and his hearing, but won't acknowledge it. A good-natured old man, he's always writing his memoirs on bar napkins and, as it turns out, he's lived a full life.
Ensemble
Jamal/Ted Chadd Goon #1 Goon #2 Cloud Jesus Vacation Guests
Production Materials
Included in your license are the following cast and crew scripts. These materials will be shipped upon receipt of payment if your license request is approved.
22 Cast Script/Vocal Books
A combination of the show's full script and the full vocal book. All dialogue within each song is printed in the score to prevent flipping back and forth during rehearsals. All books are spiral-bound and double-sided.
2 Director's Scripts
A single-sided, spiral-bound script designed with plenty of space for the director to take notes and add blocking during the rehearsal process.
1 Stage Manager's Script
A single-sided, three-hole punched script that can be inserted into your three-ring binder.
2 Piano/Conductor Scores
A keyboard score that is a key part of the show's actual orchestration. This score contains both vocal parts and a cue staff, which guides the conductor through the full orchestration by informing them when instruments enter the song, as well as providing specific part lines when necessary.
Instrumentation
Bass
Drums (Drum Set, Granite Blocks, Coconuts, Timbale, Shaker)
Guitar 1 (Acoustic, Electric, Ukelele, Banjo, Harmonica, Lap Steel)
Guitar 2 (Acoustic, Electric, Mandolin, Steel String Acoustic, Ukelele, 12-String Acoustic, 6-String Acoustic)
Percussion 1/Percussion 2 (Congas, Tambourine, Steel Drum, Grey Egg, Shaker, Caxixi, Go-Go Bells, Timpani, Cowbell, Quinto, Tumba, Djembe, Triangle, Timbale, Suspended Cymbal, Washboard, Glockenspiel, Marimba, Bell Tree, Wind Chimes, Flex-a-tone, Go Go Bells, Mark Tree, Vibraslap, Crotales, Slide Whistle)
Reed (Baritone Saxophone, Tenor Saxophone, Clarinet, Flute, Recorder)
Trumpet (Trumpet, Flugelhorn)
Promotional Resources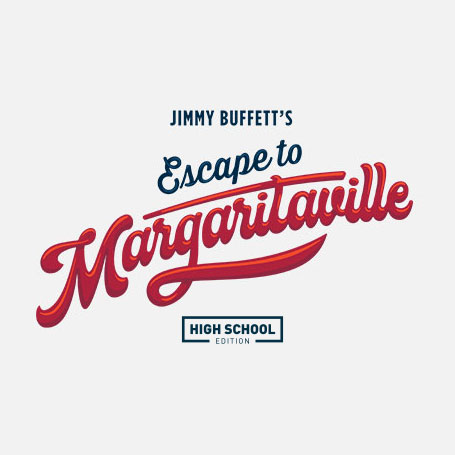 Official Logo Pack
Included with license
Includes color and black and white high-resolution logo files in JPG, PNG, and EPS formats.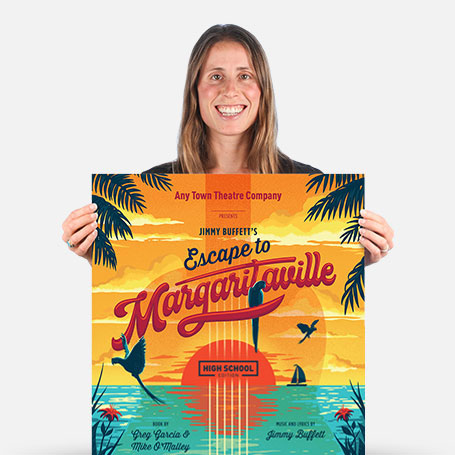 Official Show Artwork
$175
Creating artwork for your performance has never been easier – customize online in minutes, download a print-ready PDF, order printed posters, access layered files.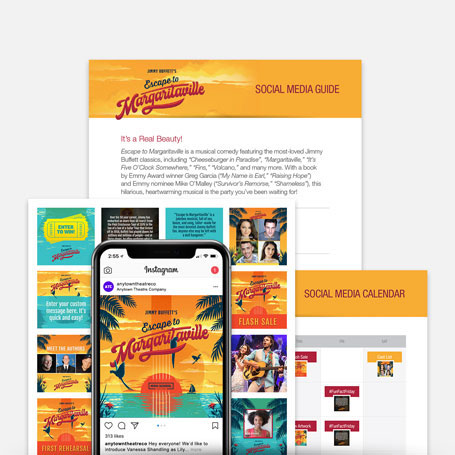 Social Media Marketing Kit
$250
Includes everything you need to plan and implement the promotion of your show – 50+ graphics for social media, original show specific content, social media guide, promotion calendar and press release template.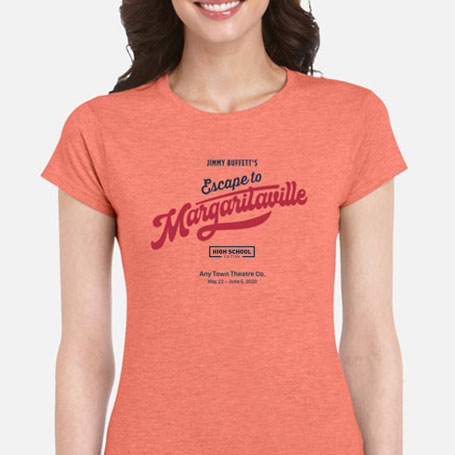 Cast & Crew T-Shirts
As low as $14 each
Broadway Licensing has partnered with Subplot Studio to offer premium-quality Cast & Crew T-Shirts! You can add your theatre name, show dates and even your cast & crew names on the back.
Production Resources
Archival Video License
If you want to record your production for archival purposes you may do so by purchasing a video license. This allows you to record one performance for your internal archives only. This archival copy can be distributed to your cast and crew. The archival recording cannot be distributed or posted online. Archival License availability varies by title and all requests must be approved by Broadway Licensing Group.
$150


Stage Tracks / Show Ready
These high quality performance and rehearsal tracks will greatly enhance your production.
$700+
Show Ready
This rehearsal tool allows you to play a customizable rehearsal track of your show, complete with individual vocal parts.
$350
Additional Books
Additional books (Cast Script/Vocal, Piano/Conductor, etc.) are available.
$25 each
Full Conductor Score
An ideal solution for those who choose to conduct their show from the podium, as opposed to the piano. Each detailed instrument staff is always right in front of you--giving you the most comprehensive layout for full control of your orchestra.
$125/Print, $100/Digital, $175/both
Digital Orchestration Parts
Prefer playing or rehearsing from your tablet? All of our orchestration scores (including PC and PV) are available in digital copies.
Digital PC or PV $50
Full Digital Orchestration Set $150
Sound Effects Package
Our easily downloadable SFX package includes all the necessary noises to enhance your production. No additional software is required so you can simply run these from a computer, phone or tablet.
$50
Broadway Plus
A workshop experience in which a Broadway artist speaks and works with students in an educational setting through our partnership with Broadway Plus.
Prices Vary by Product
TurnKey Transpositions
Broadway stars change the keys of songs all the time...so why not you? Optimize your actors' performances by ordering our TurnKey Transposition. Get the perfect key for the perfect actor! All digital delivery, usually within 24 hours.
$50 per song for PV or PC
$150 per song for all orchestral parts (including PC/PV)
KeyboardTEK
Sound like Broadway with KeyboardTEK! KeyboardTEK provides original Broadway keyboard programming that's easy-to-use and playable for pit musicians of all levels. Licensing programming from KeyboardTEK will elevate your orchestra or pit band to the fullest using only the most authentic sounds.
Credits
Book by
Greg Garcia & Mike O'Malley
Music & Lyrics by
Jimmy Buffett
Official Show Links