The Zombies: A Musical Spoof!

The Zombie Apocalypse has arrived and everybody's hungry. Our teenage hero, Little Pete, has his hands full. Forced into going hunting with his abusive father and bully older brother when he'd rather be online, he also has to deal with alcoholism, illegal drugs, gun control (or lack thereof), racism, conspiracy theories, human sexuality… all of these and zombies too! A musical spoof celebrating the classic zombie lore and the original George Romero films, this play combines comedy and social commentary with fifteen original tunes, loads of zombie shooting, horrified townsfolk, and plenty of live ones to munch on. THE ZOMBIES: A MUSICAL SPOOF! offers lots of blood, gore, horror, and the delicate feeding rituals of the undead. The perfect recipe for fun.

Roles
5F, 8M

Musicians
1

Acts
2

Duration
2 hours
Creators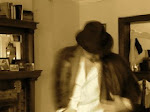 Reviews
"THE ZOMBIES: A MUSICAL SPOOF! delivers a new twist on the zombie apocalypse theme with a group of the living dead singing and dancing…fitful entertainment for those in the mood for a cheesy horror movie spoof."
WomanAroundTown.com

---
Orchestrations
1 Musician
Piano/Conductor
Production Materials
Included in your license are the following cast and crew scripts. These materials will be shipped upon receipt of payment if your license request is approved.
13 Cast Script/Vocal Books
A combination of the show's full script and the full vocal book. All dialogue within each song is printed in the score to prevent flipping back and forth during rehearsals. All books are spiral-bound and double-sided.
2 Director's Scripts
A single-sided, spiral-bound script designed with plenty of space for the director to take notes and add blocking during the rehearsal process.
1 Stage Manager's Script
A single-sided, three-hole punched script that can be inserted into your three-ring binder.
2 Piano/Vocal Scores
This piano score includes all vocal parts. It can be used during the rehearsal process and during performance.