Cyrano de Burger Shack JV

Cyrano is king of the local Burger Shack, but he can't seem to win the love of his best friend, Roxanne. When Roxanne confesses her crush on the new burger-flipper, Christian, Cyrano decides that playing Cupid is better than sitting out of the game. An updated, modern-day version of Edmond Rostand's Cyrano de Bergerac, this rollicking musical features hit contemporary pop songs that will have audiences cheering.

Materials are available to ship February 7, 2022.

Roles
12F, 7M + Ensemble

Musicians
1

Acts
2

Duration
100-110 Min
Creators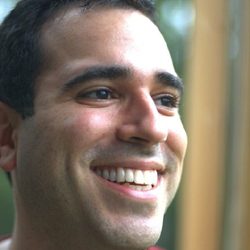 Book Jeremy Desmon is an award-winning musical theatre bookwriter whose stories have played around the world. The Girl in the Frame, seen in over a dozen productions, earned him the prestigious Edward Kleban Prize as...
Photos
Reviews
"A family-friendly show that is certainly most accessible and enjoyable for young audiences, and delivers an important message of loving yourself the way you are with an excellent embedding of Pink's Perfect."
Herald Tribune

---
Instrumentation
1 Musician
Digital Performance Tracks OR Piano only.
Casting
Cyrano
Male - 16-18
Quick-witted, intense, and outwardly confident, Cyrano sports a famously enormous (prosthetic) nose. He uses his verbal skill to hide insecurities about how he looks.
Roxanne
Female - 16-18
Brilliant, beautiful, and a champion fencer, Roxanne leads with her wit. That said, she is a romantic and believes in storybook love. Her friendship with Cyrano is strong and true, though she is oblivious of his affections for her.
Christian
Male - 16-18
Handsome with a bright smile and an easygoing charm. Not the brightest star in the sky, but he has serious style and flair and amazing moves.
DJ
Female - 16-18
The cashier. A snarky, wry emo gal with a palpable lack of customer service skills.
Pickles
Male - 16-18
Fry-guy. Free spirit and schemer. Wears a hat.
Wanda
Female - 16-18
Shake-master. Weird, wild and wonderful. As treasurer of Drama Club, Wanda is prone to dramatics.
Dani, Chloe, & Zoe
Females - 16-18
Three girls on Roxanne's fencing team. Rather tough ladies. Always together.
Hot Todd
Male - 16-18
Roxanne's haughty ex-boyfriend. Seriously, dude, she's not into you. Let it go.
Edmond High Girl's Fencing Team
Females - 16-18
"Go Cadets…En Garde!" In a nod to the swashbuckling source material, the only sports team of note at Edmond High is the girls' fencing team, led by their captain, Roxanne. Sporting mostly-white uniforms, these rockin' women give the show bursts of unique choreographic energy.
Ensemble
Various High School Students, The Drama Club, Cheering Parents, etc.
Production Materials
Included in your license are the following cast and crew scripts. These materials will be shipped 60 days prior to the first performance.
1 Piano/Vocal Playbook
This piano score includes all vocal parts. It can be used during the rehearsal process if performing a show with accompaniment tracks, or can be used during performance for piano-only shows.
Promotional Resources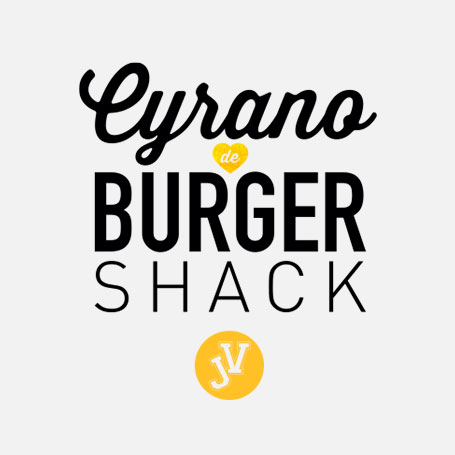 Official Logo Pack
Included with license
Includes color and black and white high-resolution logo files in JPG, PNG, and EPS formats.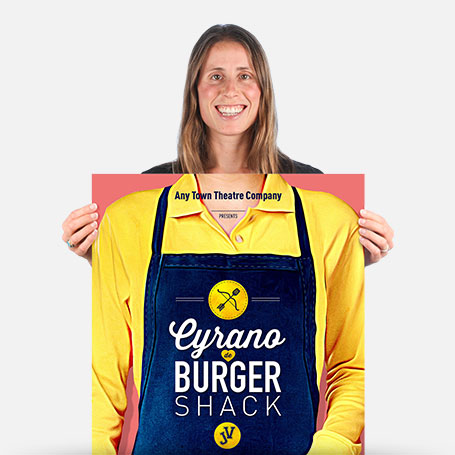 Official Show Artwork
$175 / $125 for educators
Creating artwork for your performance has never been easier – customize online in minutes, download a print-ready PDF, order printed posters, access layered files.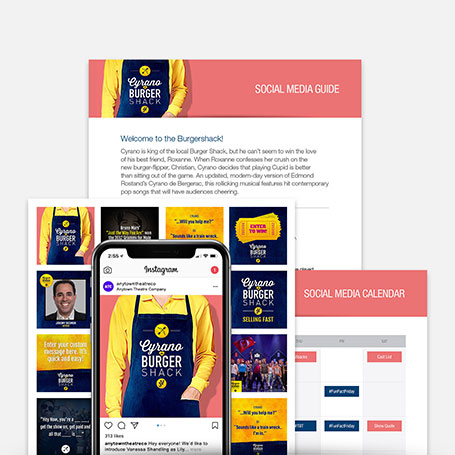 Social Media Marketing Kit
$250 / $150 for educators
Includes everything you need to plan and implement the promotion of your show – 50+ graphics for social media, original show specific content, social media guide, promotion calendar and press release template.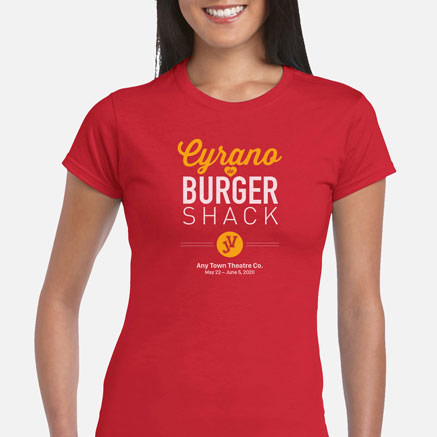 Cast & Crew T-Shirts
As low as $10 each
Broadway Licensing has partnered with Subplot Studio to offer premium-quality Cast & Crew T-Shirts! You can add your theatre name, show dates and even your cast & crew names on the back.
Production Resources
Advance Pack
Includes 1 Piano/Conductor Book, 1 Director's Script and 1 Cast Script/ Vocal Book shipped as soon as payment is received.
$100
Streaming (with ShowShare)
Software providing your approved production the opportunity to stream to your audiences via a global platform. Streamed productions are viewed on Broadway On Demand, the premiere streaming platform offering exclusive livestream events, interactive engagements, and educational resources.
Determined Upon Request
Additional Books
Additional books (Cast Script / Vocal, Piano / Conductor, etc.) are available.
$25 each
Full Conductor Score
An ideal solution for those who choose to conduct their show from the podium, as opposed to the piano. Each detailed instrument staff is always right in front of you--giving you the most comprehensive layout for full control of your orchestra.
$125/Print, $100/Digital, $175/both
TurnKey Transpositions
Broadway stars change the keys of songs all the time...so why not you? Optimize your actors' performances by ordering our TurnKey Transposition. Get the perfect key for the perfect actor! All digital delivery, usually within 24 hours.
$50 per song for PV or PC
$150 per song for all orchestral parts (including PC/PV)
Credits
Book by
Jeremy Desmon
A Modern Retelling of Cyrano de Bergerac by
Edmond Rostand
All production groups performing this play are required to include the following credits on the title page of every program:
Cyrano de BurgerShack
(At 50% of musical title:)
By
Jeremy Desmon
(At 25% of author title:)
Adapted from the novel by Jane Austen
JV Edition Adapted by Marc Tumminelli
JV Edition Conceived and Workshopped at Broadway Workshop – New York City, summer 2019
Music Copyright Notices
"A Song For Roxanne"
Written by Jeremy Desmon
Used by permission of Stageworks Media Publishing
"All Star"
Written by Greg Camp
Used by permission of Warner-Chappell Music Publishing
"Call Me Maybe"
Written by Carly Rae Jepsen, Josh Ramsay and Tavish Crowe
Used by permission of BMG Chrysalis US and Universal Music Publishing Group
"Crazy For You"
Written by John Bettis and Jon Lind
Used by permission of Universal Music Publishing Group
"Eternal Flame"
Written by Susanna Hoffs, Tom Kelly and Billy Steinberg
Used by permission of Russell Carter Artist Management, Ltd. and Sony/ATV Music Publishing
"Firework"
Written by Esther Dean, Mikkel Storleer Eriksen, Tor Erik Hermansen, Katheryn Hudson
and Sandy Wilhelm
Used by permission of Warner-Chappell Music Publishing, Downtown Music Publishing,
Ultra Music, Sony/ATV Music Publishing and Peermusic
"F**kin' Perfect"
Written by Alecia Moore, "Max" Martin Sandberg and Karl Johan Schuster
Used by permission of Kobalt Music Publishing America, Inc. and Sony/ATV Music Publishing
"Hit Me With Your Best Shot"
Written by Eddie Schwartz
Used by permission of Sony/ATV Music Publishing
"I'm Gonna Be (500 Miles)"
Written by Charlie Reid and Craig Reid
Used by permission of Wixen Music Publishing, Inc.
"Just The Way You Are"
Written by Bruno Mars, Philip Lawrence, Ari Levine, Khalil Walton and Khari Cain
Used by permission of Universal Music Publishing Group, Warner-Chappell Music Publishing, BMG Chrysalis US, Bug Music Publishing and Roundhill Music
"Lost In Your Eyes"
Written by Deborah Ann Gibson
Used by permission of Music Sales Corporation
"My Life Would Suck Without You"
Written by Lukasz Gottwald, Claude Kelly and Martin Sandberg
Used by permission of Kobalt Music Publishing America, Inc. and Warner-Chappell Music Publishing
"My Prerogative"
Written by Robert Brown, Gene Griffin and Teddy Riley
Used by permission of BMG Chrysalis US and Universal Music Publishing Group
"My Stupid Mouth"
Written by John Mayer
Used by permission of Reach Music Publishing
"The Middle"
Written by Jim Adkins, Rick Burch, Zach Lind and Tom Linton
Used by permission of Warner-Chappell Music Publishing
"The Sign"
Written by Jenny Cecilia Berggren, Jonas Petter Berggren, Malin Sofia Berggren and Ulf Gunnar Ekberg
Used by permission of Warner-Chappell Music Publishing.
"To Make You Feel My Love"
Written by Bob Dylan
Used by permission of Special Rider Music
"Tubthumping"
Written by Judith Abbott, Duncan Bruce, Paul Greco, Darren Hamer, Anne Holden, Nigel Hunter, Louise Watts and Allan Whalley
Used by permission of Sony/ATV Music Publishing.
"We Got the Beat"
Written by Charlotte Caffey
Used by permission of Universal Music Publishing Group