The Best Christmas Pageant Ever: The Musical

The Herdmans are the worst kids in the history of the world–so when they crash Sunday school and demand parts in the Christmas pageant, the whole town panics. There's not supposed to be biting or cigar-smoking in Bethlehem, and while these kids have never even heard the Christmas story, they definitely have rewrites! Soon, everyone is calling for reluctant director Grace Bradley to cancel the whole thing. It's up to the Bradleys and the Reverend to help their community see the Christmas story and the Herdman kids through new eyes in this buoyant musical adaptation of the funny and touching holiday classic.

"In our 75 years, this title is our #1 top-selling show of all time!"

Adam Burke, Artistic Director, Children's Theatre of Charlotte

Roles
10F, 9M

Musicians
5

Acts
2

Duration
1 hour 30 minutes
Creators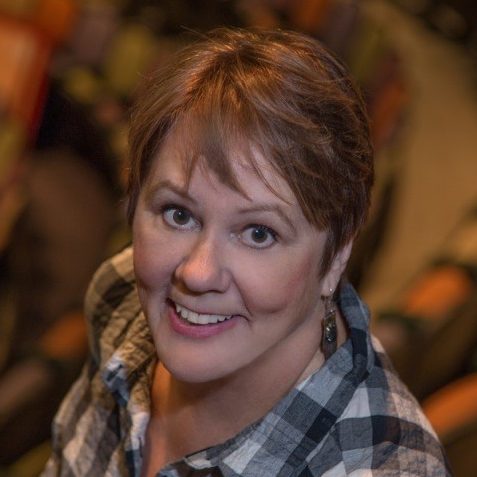 Playwright/Lyricist Jahnna Beecham (Playwright/Lyricist) met Malcolm Hillgartner (Composer/Lyricist) while acting at the Oregon Shakespeare Festival. They were married onstage at the Empty Space Theatre in Seattle and have built a life...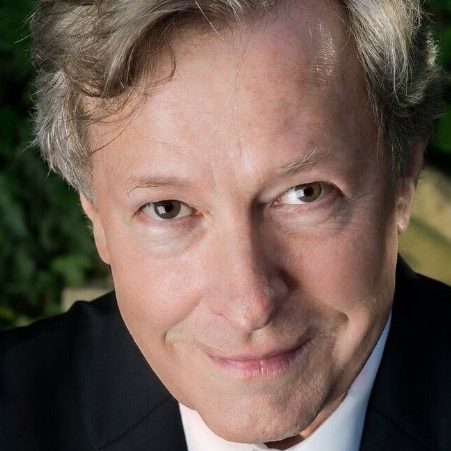 Composer/Lyricist Malcolm Hillgartner (Composer/Lyricist) met Jahnna Beecham (playwright/lyricist) while acting at the Oregon Shakespeare Festival. They were married onstage at the Empty Space Theatre in Seattle and have built a life...
Reviews
"Did BEST CHRISTMAS PAGEANT EVER really need to be a musical? Yes.
THE BEST CHRISTMAS PAGEANT EVER: THE MUSICAL may be the first play written for kids that would inspire me to buy the original cast album, if there were one . . . The show would be vastly less interesting if music and lyrics by Jahnna Beecham and Malcolm Hillgartner were yanked and the source material went naked. That's remarkable, as the show adapts strong source material indeed."
Charlotte Observer

---
"A lively show... full of upbeat tunes, this winning addition to the holiday canon manages to also touch the heart... the tunes make a swell addition."
Orlando Sentinel

---
Orchestrations
5 Musicians
Piano/Conductor (Keyboard)
Reed (Clarinet, Alto Sax, Tenor Sax)
Guitar (Acoustic, Electric)
Bass (Electric)
Drums
Casting
Ralph
Male - 13
The oldest and coolest. He's the enforcer.
Imogene
Female - 12
Leader of the Herdmans. She's loud, bossy, and crafty.
Leroy
Male - 11
Ralph's backup. Very confident in the muscle department.
Claude
Male - 10
Scrappy and smart.
Ollie
Male - 9
A bit of a naïve urchin who follows the older boys' leads.
Gladys
Female - 8
Little but fierce. Nothing scares Gladys.
Grace
Female - 35-40ish
Sweet, good-humored, slightly frazzled mom.
Bob
Male - 35-40ish
Easygoing dad, wry sense of humor.
Charlie
Male - 10
Typical kid brother, says what he thinks.
Beth
Female - 11
Charlie's older and wiser sister. She's honest and kind.
Helen Armstrong
Female - 40-50ish
Organized steamroller. She's always in charge.
Reverend Hopkins
Male - 40-50ish
Occasionally befuddled, always well-meaning.
Luanne
Female - 35-40ish
Sassy, tells it like it is.
Betty
Female - 30–40ish
Sweet southerner, calls everyone "honey."
Connie
Female - 30-40ish
Direct, no-nonsense type.
Alice Wendleken
Female - 11
Know-it-all. She thinks she's perfect.
Elmer Hopkins
Male - 10
Preacher's kid, which means he needs to behave and be nice.
Teddy Shoemaker
Male - 9
Wimpy kid with glasses, asks too many questions.
Ivy Reed
Female - 11
Beth's earnest friend who is sometimes a goody-goody.
Production Materials
Included in your license are the following cast and crew scripts. These materials will be shipped upon receipt of payment if your license request is approved.
19 Cast Script/Vocal Books
A combination of the show's full script and the full vocal book. All dialogue within each song is printed in the score to prevent flipping back and forth during rehearsals. All books are spiral-bound and double-sided.
2 Director's Scripts
A single-sided, spiral-bound script designed with plenty of space for the director to take notes and add blocking during the rehearsal process.
1 Stage Manager's Script
A single-sided, three-hole punched script that can be inserted into your three-ring binder.
2 Piano/Conductor Scores
A keyboard score that is a key part of the show's actual orchestration. This score contains both vocal parts and a cue staff, which guides the conductor through the full orchestration by informing them when instruments enter the song, as well as providing specific part lines when necessary.
Instrumentation
Piano/Conductor (Keyboard), Reed (Clarinet, Alto Sax, Tenor Sax), Guitar (Acoustic, Electric), Bass (Electric), Drums
Promotional Resources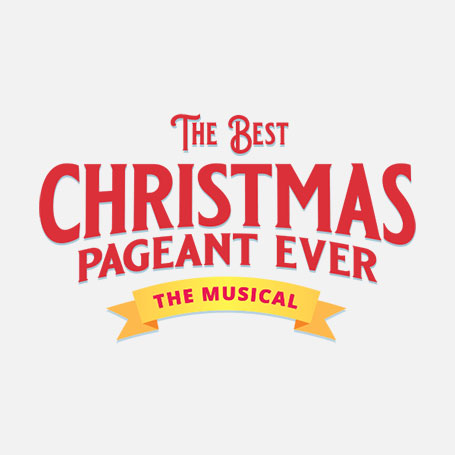 Official Logo Pack
Included with license
Includes color and black and white high-resolution logo files in JPG, PNG, and EPS formats.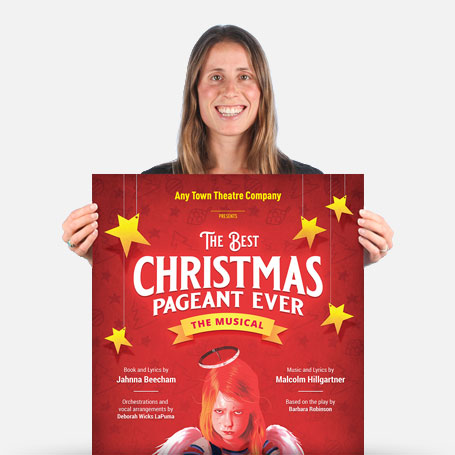 Official Show Artwork
$175
Creating artwork for your performance has never been easier – customize online in minutes, download a print-ready PDF, order printed posters, access layered files.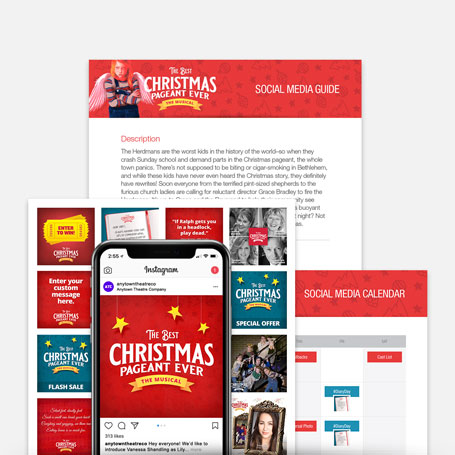 Social Media Marketing Kit
$250
Includes everything you need to plan and implement the promotion of your show – 50+ graphics for social media, original show specific content, social media guide, promotion calendar and press release template.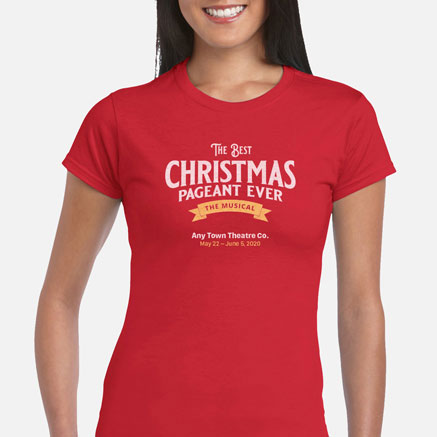 Cast & Crew T-Shirts
As low as $14 each
Broadway Licensing has partnered with Subplot Studio to offer premium-quality Cast & Crew T-Shirts! You can add your theatre name, show dates and even your cast & crew names on the back.
Production Resources
Archival Video License
If you want to record your production for archival purposes you may do so by purchasing a video license. This allows you to record one performance for your internal archives only. This archival copy can be distributed to your cast and crew. The archival recording cannot be distributed or posted online. Archival License availability varies by title and all requests must be approved by Broadway Licensing Group.
$150


Stage Tracks / Show Ready
These high quality performance and rehearsal tracks will greatly enhance your production.
$700+
Show Ready
This rehearsal tool allows you to play a customizable rehearsal track of your show, complete with individual vocal parts.
$350
Additional Books
Additional books (Cast Script/Vocal, Piano/Conductor, etc.) are available.
$25 each
Full Conductor Score
An ideal solution for those who choose to conduct their show from the podium, as opposed to the piano. Each detailed instrument staff is always right in front of you--giving you the most comprehensive layout for full control of your orchestra.
$125/Print, $100/Digital, $175/both
Digital Orchestration Parts
Prefer playing or rehearsing from your tablet? All of our orchestration scores (including PC and PV) are available in digital copies.
Digital PC or PV $50
Full Digital Orchestration Set $150
Sound Effects Package
Our easily downloadable SFX package includes all the necessary noises to enhance your production. No additional software is required so you can simply run these from a computer, phone or tablet.
$50
Broadway Plus
A workshop experience in which a Broadway artist speaks and works with students in an educational setting through our partnership with Broadway Plus.
Prices Vary by Product
TurnKey Transpositions
Broadway stars change the keys of songs all the time...so why not you? Optimize your actors' performances by ordering our TurnKey Transposition. Get the perfect key for the perfect actor! All digital delivery, usually within 24 hours.
$50 per song for PV or PC
$150 per song for all orchestral parts (including PC/PV)
Credits
Book and Lyrics by
Jahnna Beecham
Music and Lyrics by
Malcom Hillgartner
Based on the Play by Barbara Robinson
Orchestrations and vocal arrangements by Deborah Wicks LaPuma
Official Show Links
Also Available