It's a Wonderful Life – The Musical

Based on the beloved 1946 film, this musical faithfully follows George Bailey's life from his childhood dreams to his midlife disappointments and beyond, as we all take a journey to discover whether his life has mattered at all. Cinematically scored and theatrically staged, this adaptation breathes musical life into a familiar story, while retaining the warmth, humor, and pathos of the original. A new holiday classic for devotees and newcomers alike.

It's a Wonderful Life is based on the story, The Greatest Gift by Philip Van Doren Stern.

Roles
17F, 23M + Ensemble

Musicians
15

Acts
2

Duration
2 hours 15 minutes
Creators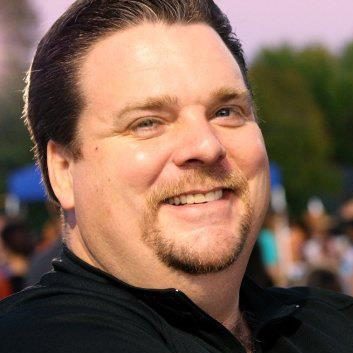 Book and Lyrics Keith Ferguson is a writer, actor, worship leader and producer of multiple projects, both for worship, as well as the stage. It's a Wonderful Life – The Musical, written with collaborator Bruce Greer,...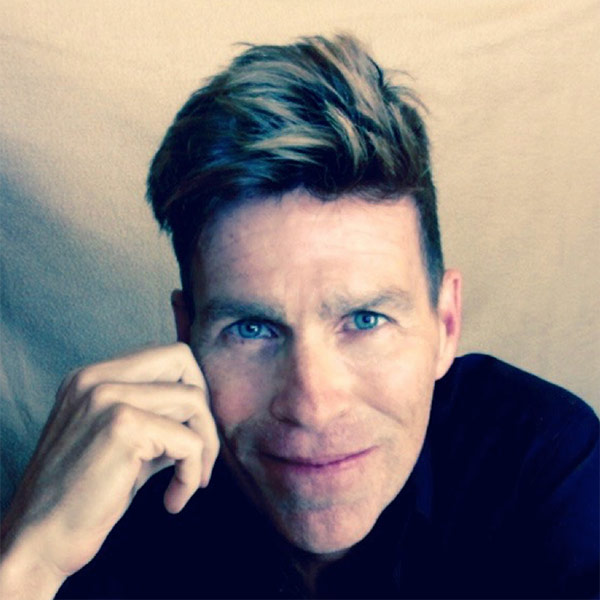 Music Bruce Greer, originally of Longview Texas, graduated with honors from Baylor University in 1984 with a degree in Music Theory and Composition, having won a full scholarship in Composition. Upon graduation, he became...
Reviews
"Audiences are going to be enormously entertained by this enjoyable show."
Quad-City Times

---
Orchestrations
15 Musicians
Piano/Conductor
Reed I (Piccolo, Flute, Alto Sax)
Reed II (Flute, Oboe, Alto Sax)
Reed III (Clarinet)
Reed IV (Clarinet, Bass Clarinet)
Horn
Trumpet
Trombone
Harp
Percussion
Violin I
Violin II
Viola
Cello
Bass (Upright)
Casting
Clarence
Male
An Angel
George Bailey
Male
Our hero
Mr. Gower
The pharmacist
Mr. Martini
Immigrant from Italy
Mrs. Martini
Female
His wife
Harry Bailey
Male
George's brother
Violet Bick
Female
George's friend
Mother Bailey
Female
George's mother
Uncle Billy
Male
George's uncle
Cousin Tilly
Female
Billy's cousin
Henry Potter
Male
The richest and meanest man in town
Pop Bailey
Male
George's father
Sam Wainwright
Male
George's friend
Mary (Hatch) Bailey
Female
George's wife
Pete Bailey
Male - 9

Janie Bailey
Female - 8

Tommy Bailey
Male - 5

Zuzu Bailey
Female - 6

Ensemble
Bedford Falls Townspeople
Production Materials
Included in your license are the following cast and crew scripts. These materials will be shipped upon receipt of payment if your license request is approved.
30 Cast Script/Vocal Books
A combination of the show's full script and the full vocal book. All dialogue within each song is printed in the score to prevent flipping back and forth during rehearsals. All books are spiral-bound and double-sided.
2 Director's Scripts
A single-sided, spiral-bound script designed with plenty of space for the director to take notes and add blocking during the rehearsal process.
1 Stage Manager's Script
A single-sided, three-hole punched script that can be inserted into your three-ring binder.
1 Piano/Conductor Score
A keyboard score that is a key part of the show's actual orchestration. This score contains both vocal parts and a cue staff, which guides the conductor through the full orchestration by informing them when instruments enter the song, as well as providing specific part lines when necessary.
1 Rehearsal Piano Score
This piano score is a reduction of the full orchestra, designed to be used during the rehearsal process. All vocal parts are included in this score.
Instrumentation
Piano/Conductor, Reed I (Piccolo, Flute, Alto Sax), Reed II (Flute, Oboe, Alto Sax), Reed III (Clarinet), Reed IV (Clarinet, Bass Clarinet), Horn, Trumpet, Trombone, Harp, Percussion, Violin I, Violin II, Viola, Cello, Bass (Upright)
Promotional Resources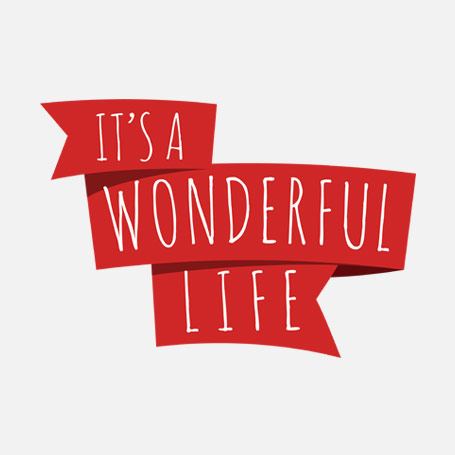 Official Logo Pack
Included with license
Includes color and black and white high-resolution logo files in JPG, PNG, and EPS formats.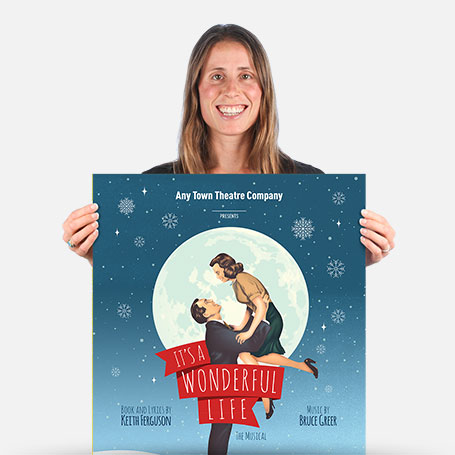 Official Show Artwork
$175
Creating artwork for your performance has never been easier – customize online in minutes, download a print-ready PDF, order printed posters, access layered files.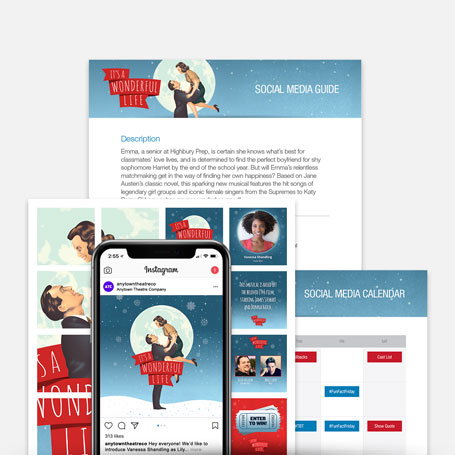 Social Media Marketing Kit
$250
Includes everything you need to plan and implement the promotion of your show – 50+ graphics for social media, original show specific content, social media guide, promotion calendar and press release template.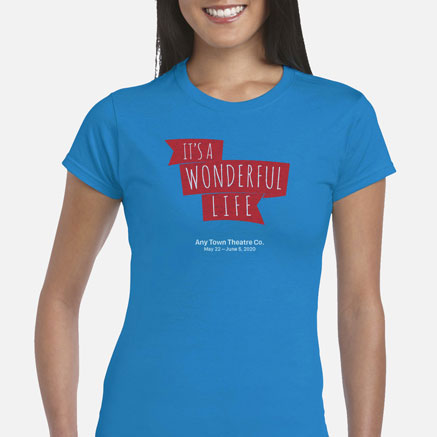 Cast & Crew T-Shirts
As low as $14 each
Broadway Licensing has partnered with Subplot Studio to offer premium-quality Cast & Crew T-Shirts! You can add your theatre name, show dates and even your cast & crew names on the back.
Production Resources
Archival Video License
If you want to record your production for archival purposes you may do so by purchasing a video license. This allows you to record one performance for your internal archives only. This archival copy can be distributed to your cast and crew. The archival recording cannot be distributed or posted online. Archival License availability varies by title and all requests must be approved by Broadway Licensing Group.
$150


Performance Tracks
Our top-quality digital performance tracks are sent to you through a simple link. Quickly download them to your computer, tablet or smartphone and start rehearsing!
Please note that select tracks include supplemental choral vocals.
$500
Additional Books
Additional books (Cast Script/Vocal, Piano/Conductor, etc.) are available.
$25 each
Full Conductor Score
An ideal solution for those who choose to conduct their show from the podium, as opposed to the piano. Each detailed instrument staff is always right in front of you--giving you the most comprehensive layout for full control of your orchestra.
$125/Print, $100/Digital, $175/both
Digital Orchestration Parts
Prefer playing or rehearsing from your tablet? All of our orchestration scores (including PC and PV) are available in digital copies.
Digital PC or PV $50
Full Digital Orchestration Set $150
Broadway Plus
A workshop experience in which a Broadway artist speaks and works with students in an educational setting through our partnership with Broadway Plus.
Prices Vary by Product
TurnKey Transpositions
Broadway stars change the keys of songs all the time...so why not you? Optimize your actors' performances by ordering our TurnKey Transposition. Get the perfect key for the perfect actor! All digital delivery, usually within 24 hours.
$50 per song for PV or PC
$150 per song for all orchestral parts (including PC/PV)
Credits
Book and Lyrics by
Keith Ferguson
Music by
Bruce Greer
From the screenplay by
Frances Goodrich, Albert Hackett, Frank Capra, and Joe Swerling
Official Show Links
Also Available