If you're looking for top-quality Theatre for Young Audiences (TYA) shows, look no further! Broadway Licensing offers a wide range of TYA shows that are sure to delight audiences of all ages. Whether you're looking for an engaging story, an interactive experience, or a toe-tapping musical, we have something for everyone. So, sit back, relax, and get ready to discover some of the best TYA shows around! 
We're here with our top TYA shows:
Book and Lyrics by David Spiegel & Stacy Davidowitz 
Music and Lyrics by Adam Spiegel 
About: Pack up your trunks and head to Camp Rolling Hills for a wild, tune-filled summer of campfires, bunk beds, and treasure hunts (for missing underwear, that is). From learning a new sport, to discovering musical talent, to finding first love, these 12 tweens are off on an eight-week adventure that will forever change their lives. At Camp Rolling Hills, it doesn't matter if you are a bookworm, a jock, a tomboy, or a girly-girl because true friendships are made when all the rules are broken. After all, there is a different definition of "cool" at camp. 
---
Book by Florence Milazzo 
Music and Lyrics by AnnMarie Milazzo & Adam Wachter 
About: Denny is your average Tyrannosaurus Rex in all ways except one: his less-than-average size! School bully Marcus teases him because of his differences, but when the class turns to Denny to save the day, he learns it's the deeds he does that make him strong. A prehistoric musical that celebrates the unique strengths in us all! 
---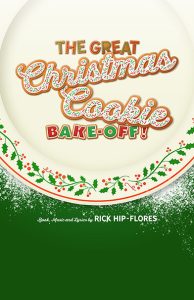 Book, Music and Lyrics by Rick Hip-Flores 
About: The Great Christmas Cookie Bake-Off! combines the time-honored tradition of Christmas cookies with the ever-popular phenomenon of reality baking competitions. In this musical, eight young cookie chefs have been selected from all over the country to battle it out for first prize at the Cookie Coliseum. Just as no two cookies are the same, each contestant reveals their unique personality through song. Suspense mounts as the chefs are eliminated one by one, by three distinguished celebrity judges. Over the course of the competition, feelings of intense rivalry give way to virtues of charity, family, and forgiveness, as the chefs learn what really makes for a winning Christmas recipe. 
---
Book by The Miracle Project 
Lyrics and Music by Zachary Marsh 
Script Adaption by Ryan Berman and Shelley Pack with Elaine Hall "Coach E!" 
The Miracle Project® is a theatre and film arts program for all Abilities created by Elaine Hall "Coach E!" 
About: Any Town, USA, needs a hero! When called upon by the townspeople, the Super Heroes are eager to help. From litter to bullying to technology addiction, the Super Heroes take pride in their work of snuffing out the bad and replacing it with the good. Using stories from real-life participants with autism and other disabilities, this new musical is adaptable, great for actors as young as 8 up through adults and geared for audiences in elementary and middle school. Heroes Like Me lets you tell the story of your town and open your eyes, your hearts and maybe unlock your own superpowers! 
---
Book by The Miracle Project 
Script Adaption by Elaine Hall "Coach E!" 
Lyrics and Music by Zachary Marsh 
About: It's Tyler's first day at Miracle High School and he's trying to figure out where he belongs. When bullies target him, Tyler learns how to push past their negativity with the help of his new friends and remembers what makes him unique. By listening to each other, the students of Miracle High learn that we are all more alike than we are different. The Intimidation Game is a new musical originally conceived and written for/by/with teens and young adults, both with and without autism and other disabilities. As a highly adaptable and flexible piece of theater, it gives opportunities to include personal stories and be performed by professional, semi-professional, middle school, or high school drama programs. 
---
Book by Mike Ross 
Music and Lyrics by Dylan MarcAurele 
Based on a story by Larry Little 
About: While calculating the exact date the asteroid hit the earth and destroyed the dinosaurs, 10-year-old science wiz Miley Chase accidentally discovers the secret to time travel. She's putting the finishing touches on her time machine when her nemesis Tyler, the snotty, spoiled next-door neighbor, arrives to gloat over his win at the science fair. Despite Miley's warnings, Tyler gets a little too curious about the machine—and accidentally sends them both to prehistoric times. They've arrived, according to Miley's calculations, on the same day that the asteroid is about to hit the earth. Their biggest problem: the time machine is badly damaged from the crash landing. It is up to Miley and Tyler to work together to avoid being dinosaur dinner and fix the time machine before the asteroid hits. Using their resourcefulness to build new parts for their ship, the two learn they can accomplish anything if they really try, and that an open and inquisitive mind can turn old enemies—and even long-extinct carnivores—into new friends. 
---
Book by Alvaro Saar Rios 
Music and Lyrics by Dinorah Márquez Abadiano 
Based on Ghost Wings by Barbara Joosse from the novel by Barbara Joosse 
About: After her abuelita dies, ten-year-old Pilar uses an old shawl that smells like her grandmother to help her remember their adventures together. One whiff reminds her of the two of them making tortillas or visiting a special forest known as el Círculo Magico where her abuelita would converse with wildlife. But as the shawl's scent fades, so too do Pilar's memories. Once it's gone, will she lose her grandmother forever? Based on Barbara Joosse's beloved children book, On the Wings of a Mariposa is a story about one girl's quest to keep her abuelita's memory alive set during the beautiful annual monarch butterfly migration. 
---
Book, Music, and Lyrics by Rick Hip-Flores 
Based on the book by Sheryl Berk & Carrie Berk 
About: Based on the bestselling children's book series, Kylie Carson has a big problem: she's different. And the difference isn't necessarily a good thing in 7th grade. She loves vampires, zombies, and all things pertaining to monster movies–one of the many reasons why kids at her new school avoid her like the Creature from the Black Lagoon. To sweeten up her image–and find a place where she belongs–Kylie starts a cupcake club (Peace, Love & Cupcakes), attended by three other socially invisible girls. Together, they forge a powerful friendship, figure out how to create crowd-pleasing cupcakes, and become a booming baking business that would make Martha Stewart envious. But when Meredith Mitchell, Blakely Middle School's resident Queen Bee, tries to sabotage their efforts, will Kylie have the courage to stand up to the bully and bring the school together? A musical that celebrates kid power, friendship, and standing up for who you are and what you believe in. 
---
Book by Jill Abbinanti 
Music and Lyrics by David Abbinanti 
Inspired by the book The Perfect Dog by John O'Hurley 
About: Inspired by the New York Times best-selling author John O'Hurley's book The Perfect Dog, Sam, a twelve-year-old perfectionist, searches for a flawless dog to enter in the town's dog contest. Unable to find a canine that measures up, Sam must resort to training the family dog, Max, who is less than eager to obey commands. In the end, Sam and Max learn that there is no such thing as perfect, but there is such a thing as being perfect for each other. 
---
Book and Lyrics by Jim Christian 
Music by Tom Edward Clark 
About: Once upon a time in a distant kingdom, an outwardly plain and inwardly ugly princess was sent to live with a mysterious woman and her family in the hopes of making her more attractive to the realm's princes. During her stay, she learns the value of inner beauty and the meaning of a caring and unselfish life. The Plain Princess, adapted from an original fairy tale with enchanting music and lyrics, is fine family entertainment that ends happily ever after. 
---
Book by Melvin Tunstall III 
Lyrics by Douglas Lyons 
Music by Greg Borowsky & Douglas Lyons 
Based on the Original Concept by Douglas Lyons 
About: The plot follows 8-year-old Lily Polkadot who just moved to the "Squares Only" small town of Rockaway. As the first Polkadot in an all Square school, Lily faces an almost impossible task of gaining acceptance from her peers. From daily bullying to segregated drinking fountains, Lily's quest seems hopeless until she meets Sky, a shy Square boy whose curiosity for her unique polkadot skin blooms into an unexpected pal-ship. Inspired by the events of The Little Rock 9, Polkadots serves as a colorful history lesson for children, reminding them that our individual differences make us awesome, not outcasts. 
---
Book by Florence Milazzo 
Music and Lyrics by AnnMarie Milazzo & Adam Wachter 
About: Hooray! It's Princess Cassie's 12th birthday! To earn her crown and become a true princess, she must deliver a gift to the Fairy Queen while avoiding the witches and other dangers that await in the forbidden woods. With the help of new friends, Cassie uses her bravery, knowledge, and kindness to complete her journey. 
---
Book, Music and Lyrics by Phil Darg 
About: Sunscreen, check. Bug spray, check. Energy bars, check. Sasquatch… Sasquatch??!! The myth is real! Large, hairy, and rumored to be very smelly, people have sought this legend for ages. But are the stories true? When a small boy named Sam loses his overbearing parents and gets lost in the woods, he comes face-to-face with a bona fide Bigfoot who, as it turns out, is very helpful and goes by the name of Arthur. Becoming fast friends, Sam and Arthur must each find their way to their families while warding off a television crew and crazy locals who seek to expose the Sasquatch for profit. Can these two keep each other safe and keep the truth about Bigfoot from the public? An audience favorite at the 2013 New York Musical Theatre Festival. 
---
Book by Kirsten Brand and Rick Lombardo 
Music by Haddon Kime 
Lyrics by Kirsten Brand, Haddon Kime and Rick Lombardo 
Additional Music by Rick Lombardo 
Based on the story by Hans Christian Anderson 
About: Be spirited away by this new musical adaptation of Hans Christian Andersen's fantastical coming-of-age adventure that inspired the hit movie Frozen. Join Gerda on a dangerous and whimsical quest to save her best friend Kai before he is trapped forever in the Snow Queen's palace. Dare to enter a world where flowers sing, animals talk, and riddles yearn to be solved. With an original pop-rock score, alluring ballads, urban steampunk flair, and the enigmatic Snow Queen, you'll soon see this is not your average bedtime story. 
---
Book and Lyrics by Alyn Cardarelli 
Music by Steve Goers 
Based on the books of Janell Cannon 
About: Stellaluna the bat, Verdi the snake, and Pinduli the hyena all seek refreshment at a watering hole one hot day, only to find themselves the subjects of a bullying lion's ridicule. But by sharing stories about building self-confidence, these three misfit animals find wisdom, peace, and friendship. Based on the popular books by Janell Cannon, this delightful musical is a treat for both children and adults
---
By Paul Gilvary, Robert Kauzlaric & William Rush 
Based on the book by Jon Scieszka & Lane Smith 
About: There are two sides to every story, and when the Big, Bad Wolf takes the stand in Piggsylvania's Trial of the Century, he finally gets his say. But whether he'll get a fair trial in a corrupt piggy court is anyone's guess. Will the pigs' splashy puppet show make a puppet out of justice, or is the wolf's catchy song and dance about a sneeze gone wrong all razzle-dazzle? Enter the jury box and decide the fate of Big 'n' Bad in this musical adaptation of the hit children's book.