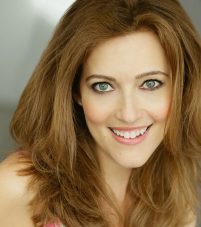 We sat down with award-winning playwright Sandy Rustin to discuss her journey through her career and all that's to come!
In as many words as you please, tell us about your journey to becoming a published playwright.
My mother likes to show people a book I made as a school assignment in the 6th grade. (It's a book about why I love my mother). The first page is an "author bio" positioned beneath a photograph of me with dense bangs and a thick pastel sweater. In it, I thank my dog, Waggles Pierre, for his support. I mention my family and note my favorite subjects in school. And then the last line of my eleven-year-old bio says, "Sandy hopes to grow up to be an actress and playwright." So, I suppose my journey was already in progress by then. Growing up in Chicago, I took advantage of the opportunities available there for theatre-loving kids like me. I studied acting and improv at Piven Theatre Workshop, I took the train downtown to watch Second City sketch-comedy shows, and I saw every national tour I could get my parents or grandparents to take me to. In high school, I performed in and was the head writer of our school's beloved student-run musical. During my time at Northwestern University, I performed in and wrote for the notorious student-run Waa-Mu show. In my junior year I divided my time at the Royal Academy of Dramatic Arts, studying both acting and play-writing with equal passion. By the time I got to New York City, I was ready to fulfill my 6th-grade dreams.
Rated P for Parenthood was my first full-length musical to be produced Off-Broadway. After becoming a mom myself, I had taken a sketch writing class at Upright Citizen's Brigade in NY. Everyone in the class was younger than me, including my teacher (comedic actor, Zach Woods). But I didn't care. It felt great to be back in a writer's room, creating funny stuff with funny people. I was one of two women and certainly the only parent. I was churning out sketches about nursing in public, sadistic sleep-training rituals, and sex after childbirth. One day after class, Zach pulled me aside, praised the work I'd been presenting in class, and encouraged me to continue pursuing the material that was coming so naturally to me. His support of my early efforts to find the funny in the midst of the madness of early parenthood was my first indication that maybe there was a show to be built out of my new life as a mom.
Rated P opened in New York in 2012, and since then I've penned seven other shows for the stage, two films, three television pilots, a whole slew of web series, and a YA book. I feel grateful to my 6th-grade self for putting my goals out into the universe with such clarity. I love creating and inhabiting new and original worlds, and life as an actress and playwright allows me to do just that!
Tell us about Rated P! We're so excited to have it as part of our catalog. Did your inspiration come from your sole experiences as a parent?
Rated P is a reflection of my experience both as a child of funny parents and as a parent of funny children. All of the sketches and musical numbers in the show are based on some sort of moment from my life – some quite specifically (ala a VERY unfortunate photograph I accidentally emailed to everyone I know after the birth of my first child) – and some more loosely (ala the time I worked at a Subway Sandwich shop when I was 15 and my Dad "dropped by" with his camcorder). The show is intended to be a quick snapshot of quintessential, universal moments from conception to college drop-off, told through the eyes of parents. So much of this show reflects the humor and heart of my own parents, my husband, my kids, and my friends (and their parents and kids!) … it's truly inspired by the amazing and wonderful (and hilarious) people in my life.
If you could live the life of any character that you have created, which would it be and why?
There's a character in my play, The Cottage, named Sylvia Ann Markenson Van Kipness. She's British and at her most glamorous in 1923, in the English countryside. Over the course of the play, she finds strength in being a woman during a time in history when that was a rarity. I love her style, her pattern of speech, her wit, and the discoveries she makes about herself. I'd love to spend some time in Sylvia's shoes.
How many unpublished and half-finished pieces of work do you have?
I'm of the mind, that all works are always half-finished. I love rewriting, editing, and finding new and better answers. So, I'm constantly reworking my writing whenever I'm given a new opportunity to work on a script with actors. But yes, more to your point, right now, I do have a handful of new plays "in the works." I'm forever jotting down ideas and saving great moments I've experienced or observed.
Share a piece of advice for aspiring writers.
I know it's cliche, but Carol Burnett's quote – that has become scripture for most comedic writers – is that "Comedy = Tragedy + Time." This is the mathematical equation I spend my life trying to solve.
What should we be expecting from you next?
Next up: American Girl Live; Camp American Girl! This is a big, splashy musical I'm writing book & lyrics for – being presented by Mattel and Mills Entertainment, based on the popular American Girl Doll characters. The National Tour is happening now!
And this spring, an adaptation I've been working on (with my friend, Sarah Saltzberg) for Encores! at City Center, of a Rogers & Hart musical called, I Married an Angel will premiere.
I've also contributed to CLUE! – an adaptation I'm helping to create based on the hugely popular Hasbro Board Game, and Paramount Pictures Cult Hit Film. The High School version is available for licensing now! A national tour for this farce of a play is scheduled to begin this November.
In addition, my play The Cottage is in development for a production with Jason Alexander (Seinfeld) directing. So I'm looking forward to that as well!
---
Sandy Rustin is an actress and award-winning playwright. Her comedy, The Cottage, ("Laugh Out Loud!" – The NY Times) was recently presented by Manhattan Theatre Club with Jason Alexander (Seinfeld) directing and is in development for an upcoming commercial production in New York. Her sketch comedy musical, Rated P … For Parenthood, ("Wistfully Funny!" – The NY Times) opened Off-Broadway at the Westside Theatre and was optioned for TV development with ABC Studios, Kelly Ripa & Mark Consuelos.
Sandy's play, STRUCK ("A Charming Comedy!" – The NY Times) enjoyed two recent, critically acclaimed productions at NJ REP and Theatre Raleigh. Her play, HOUSTON, is the recipient of the New American Musical Award and after a recent workshop in NYC is currently in development for production. Sandy's newest comedy, ELIJAH,  was recently presented as part of Midtown Direct Rep's 2017 "Theatre in the Parlor" Reading Series and is in development. She created, developed, wrote and starred in her own show for Nickelodeon (Nick Mom) called Overbooked. And her webseries, It's Complicated, was acquired by Stage17.TV Sandy has two screenplays and two television pilots in development. (Abrams Artists)
As an actress, Sandy guest starred on Comedy Central's, Inside Amy Schumer and regularly appears at New York's The Upright Citizen's Brigade in "Gravid Water" (named "Best Improv Show" by Time Out NY). She has worked with Loopers Unlimited for over 15 years as a voiceover actress, appearing in hundreds of TV shows and Films. She is the Founding Co-Artistic Director of Midtown Direct Rep & an advocate for http://cowdenfoundation.org/. Northwestern University graduate. Sandy is a member of ASCAP, SAG, AEA, and the Dramatists Guild and is represented by Abrams Artists.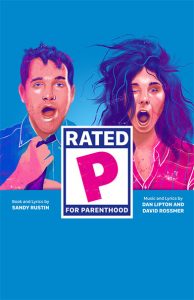 80-90 minutes
2W, 2M
Rated P for Parenthood chronicles every stage of modern-day parenting, from conception to college, with giant doses of heart and humor. A versatile cast takes the audience through the ups and downs of having kids – from the sublime to the ridiculous – in a series of comic and musical vignettes. Hilarious, fresh, and decidedly irreverent, Rated P provides all the wistful joy of childrearing…at a fraction of the cost of braces!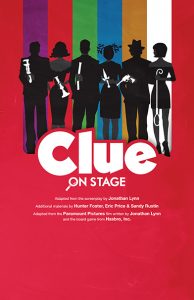 35-40 minutes
4W, 3M, 8 either
On a dark and stormy night, six unique guests, plus a butler and a maid, assemble for a dinner party at the home of Mr. Boddy. When their host turns up dead, it is clear that no one is safe! Soon the guests are racing to find the killer and keep the body count from stacking up. Based on the popular board game and adapted from the cult classic film, Clue is the comedy whodunit that will keep you guessing (and laughing) to the very end.
Editor's note: this interview was originally published in January 2019. Information may have changed.