The new version of the show will launch for stock and amateur licensing in 2019.
NEW YORK, NY – 10/22/2018. Broadway Licensing is working with Stephen King and John Mellencamp to redevelop their haunting musical for worldwide licensing. The Gothic southern musical about a decades-old tragedy that haunts the population of a small town has a roots rock score by Grammy winner Mellencamp, ("Pink Houses", "Jack and Diane", "Small Town") and a book by "Carrie," "Misery" and "The Shining" Master of Horror novelist King. It premiered in a full stage production in 2012 at the Alliance Theatre in Atlanta, GA. The production also played a limited concert tour.
"We are humbled and honored to have been entrusted by Steve and John to redevelop their thrilling and innovative musical," says Broadway Licensing president Sean Cercone. "The newly revised version will be available for worldwide licensing in 2019."
Author Stephen King says "This is terrific news. I loved working with John Mellencamp, and the ghostly result is one of my most proud accomplishments."
John Mellencamp added, "When Steve and I decided to mount a musical … neither of us knew what we were doing… we learned on the job.. I have never had so much fun or laughed so hard in my life…."
A studio album of Ghost Brothers of Darkland County, recorded in 2010, was released from Hear Records/Concord Records Group. A standard, single-disc version includes the complete songs, dialogue excerpts and digital libretto; while a two-disc format features complete songs (with and without dialogue), deluxe artwork, "handwritten lyrics," a libretto and a DVD with a "Making of Ghost Brothers" documentary including interviews with King, Mellencamp and album producer T Bone Burnett along with other bonus material.
For more information about Broadway Licensing, call (866) 639-7529 or email [email protected]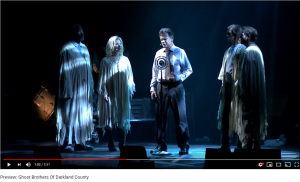 WTIU gives a sneak preview of John Mellencamp and Stephen King's new musical "Ghost Brothers Of Darkland County.
Broadway Licensing (www.broadwaylicensing.com) is a full service theatrical partner specializing in the development, production, and worldwide distribution of new and established theatrical properties. Broadway Licensing services the Playscripts collection and Stageworks Media, a development company committed to creating new musicals and plays.
Link: Broadway World