Looking for a way to bring your community together? How about a chance to act, write, and/or direct plays that have never been seen before and may never be seen again? If you're on the hunt for a theatrical experience unlike any other, The 24 Hour Plays is the perfect solution – a time-tested, time-limited theater making extravaganza now available from Broadway Licensing Group. 
For more than 25 years, The 24 Hour Plays has been the premiere guide to creating and staging plays created in 24 hours, from Broadway to Sacramento, and from Mexico to Finland – and have licensed their unique 24-hour process to theaters and schools across the world! Now, The 24 Hour Plays and Broadway Licensing Group are partnering to raffle off five free licenses to any school or theater who license any title from Playscripts between April 1st and April 21st.
All you need to do is secure your license to a title in the Playscripts catalogue and you'll be automatically entered to win a free license for The 24 Hour Plays. So, if you're thinking about a new, fun and creative event for your artists and audiences next season, book your license now, and start imagining what The 24 Hour Plays could do for your community.
Enter to win by licensing a Playscripts Play Here!
See more: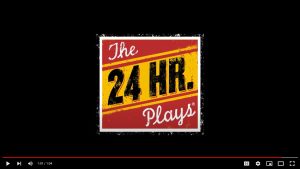 Photos: Danny Bristoll
Please Read Terms and Conditions for The 24 Hour Plays Raffle.