The Andrews Brothers

A USO performance from the Andrews Sisters is in jeopardy of cancellation when they fail to appear shortly before curtain. Thankfully, three earnest stagehands are determined to go on with the show! The Andrews Brothers is filled to the brim with 30 songs made famous by The Andrews Sisters and other top artists of the era, including the showstoppers "Boogie Woogie Bugle Boy," "Don't Sit Under the Apple Tree," "Three Little Sisters," and "Ac-Cent-Tchu-Ate the Positive." Mistaken identities and madcap adventures—imagine Bing Crosby and Bob Hope in a road movie of Some Like It Hot—along with the music of an entire generation highlight this wonderful valentine to the heroes of World War II.

Roles
1W, 3M

Musicians
9

Acts
2

Duration
1 hour 40 minutes
Creators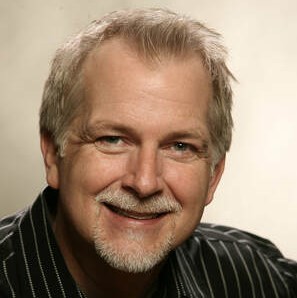 Creator Roger Bean created the long-running hit The Marvelous Wonderettes (over 1,200...
Videos
Reviews
"Pleasingly silly! No-holds-barred goofiness!"
---
"This is a helluva great production. The Andrews Brothers is top notch and entertaining beyond words."
---
Orchestrations
9 Musicians
Piano/Conductor
Reed 1
Reed 2
Reed 3
Trumpet
Trombone
Guitar
Bass
Drums
Guitar (), Reed 1 , Reed 2 , Reed 3 , Trombone, Trumpet
Casting
Max Andrews
Male
Baritone/Bass. His Andrews counterpart is Maxene. His 4F ailment is flat feet. He is the stage manager and strives to remain in charge in the face of total disaster. Max is the oldest of the three brothers, and takes on the role of older brother.
Lawrence Andrews
Male
Tenor. His Andrews counterpart is LaVerne. His 4F ailment is incredibly poor eyesight. Wears thick glasses. Lawrence is the middle brother, and takes on that role. He is perhaps a little resentful of his older brother, and always ready to crack jokes at his expense.
Patrick Andrews
Male
Tenor/Baritone. His Andrews counterpart is Patty. His 4F ailment is asthma. When nervous, Patrick wheezes heavily. When really nervous, he stutters. When incredibly nervous, he faints. Patrick is the baby brother of the other two, and Max and Lawrence are careful to take care of him. He sings lead in Act II— front and center as Patty.
Peggy Jones
Female
Mezzo-Soprano. A cross between Betty Hutton and Betty Grable, Peggy is a WWII pin-up girl, and she longs to show everyone she's more than just another pretty face. Warm, loving, and sincere.
Production Materials
Included in your license are the following cast and crew scripts. These materials will be shipped upon receipt of payment if your license request is approved.
4 Cast Script/Vocal Books
A combination of the show's full script and the full vocal book. All dialogue within each song is printed in the score to prevent flipping back and forth during rehearsals. All books are spiral-bound and double-sided.
2 Director's Scripts
A single-sided, spiral-bound script designed with plenty of space for the director to take notes and add blocking during the rehearsal process.
1 Stage Manager's Script
A single-sided, three-hole punched script that can be inserted into your three-ring binder.
2 Piano/Conductor Scores
A keyboard score that is a key part of the show's actual orchestration. This score contains both vocal parts and a cue staff, which guides the conductor through the full orchestration by informing them when instruments enter the song, as well as providing specific part lines when necessary.
Instrumentation
Piano/Conductor
Bass (Upright)
Drums
Guitar (Hollow Body Electric/Ukulele)
Reed 1 (Alto Saxophone/Clarinet)
Reed 2 (Alto Saxophone)
Reed 3 (Tenor Saxophone)
Trombone
Trumpet
Promotional Resources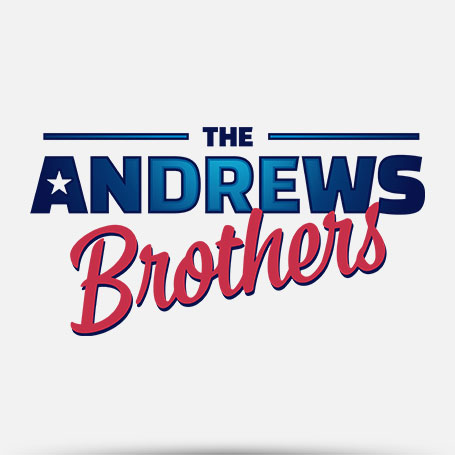 Official Logo Pack
Included with license
Includes color and black and white high-resolution logo files in JPG, PNG, and EPS formats.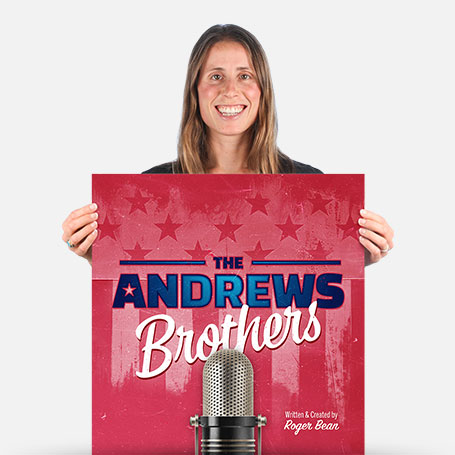 Official Show Artwork
$175
Creating artwork for your performance has never been easier – customize online in minutes, download a print-ready PDF, order printed posters, access layered files.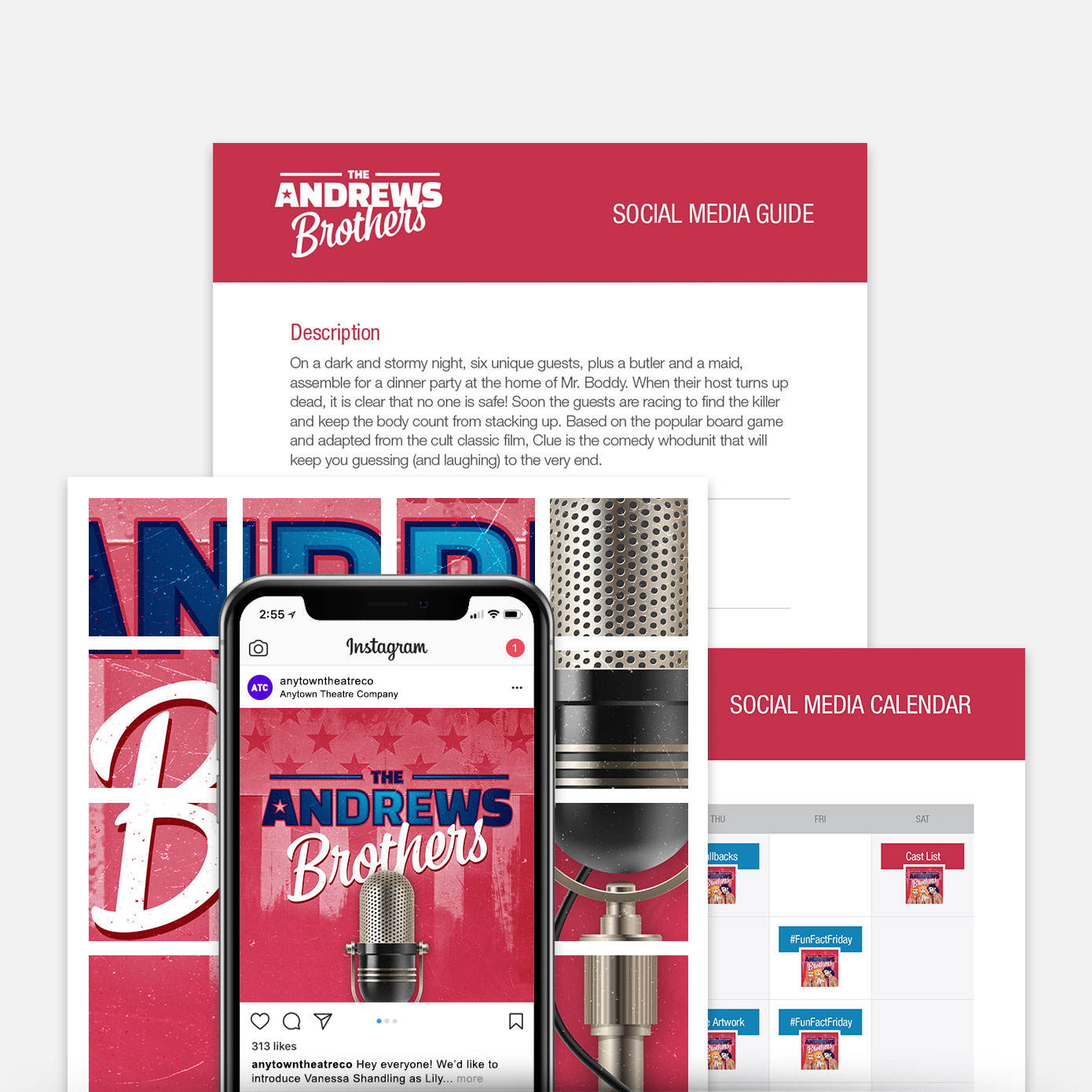 Social Media Marketing Kit
$250
Includes everything you need to plan and implement the promotion of your show – 50+ graphics for social media, original show specific content, social media guide, promotion calendar and press release template.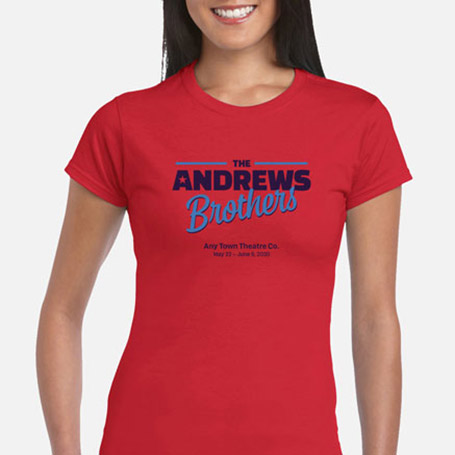 Cast & Crew T-Shirts
As low as $14 each
Broadway Licensing has partnered with Subplot Studio to offer premium-quality Cast & Crew T-Shirts! You can add your theatre name, show dates and even your cast & crew names on the back.
Production Resources
Archival Video License
If you want to record your production for archival purposes you may do so by purchasing a video license. This allows you to record one performance for your internal archives only. This archival copy can be distributed to your cast and crew. The archival recording cannot be distributed or posted online. Archival License availability varies by title and all requests must be approved by Broadway Licensing Global.
$150


Performance Tracks
Our top-quality digital performance tracks are sent to you through a simple link. Quickly download them to your computer, tablet or smartphone and start rehearsing!
$500
Rehearsal Tracks
Take your Music Director and chorus with you wherever you go! Broadway Licensing's VRT provides a MIDI breakdown of each vocal line in the score. Package includes Full Mix, as well as separate folders for Tenor 1, Tenor 2, Baritone and Bass with enhanced volume of the individual part, as well as the rest of the choir in the background for reference. An ideal solution for learning all of your vocal parts quickly and efficiently.
Variable
Additional Books
Additional books (Cast Script/Vocal, Piano/Conductor, etc.) are available.
$25 each
Full Conductor Score
An ideal solution for those who choose to conduct their show from the podium, as opposed to the piano. Each detailed instrument staff is always right in front of you--giving you the most comprehensive layout for full control of your orchestra.
$125/Print, $100/Digital, $175/both
Digital Orchestration Parts
Prefer playing or rehearsing from your tablet? All of our orchestration scores (including PC and PV) are available in digital copies.
Digital PC or PV $50
Full Digital Orchestration Set $150
Broadway Plus
A workshop experience in which a Broadway artist speaks and works with students in an educational setting through our partnership with Broadway Plus.
Prices Vary by Product
Credits
Created by
Roger Bean
Director's Note:
Intricate harmonies throughout for everyone. Take great care to explore the brothers and their relationships. Older, middle, and youngest siblings have distinct roles they take in a family hierarchy, and this can really help inform the performances.
Setting: Backstage and onstage at a USO show on a small island in the South Pacific, 1945.
Also Available