The Marvelous Wonderettes: Glee Club Edition

A new, flexible-casting version for this off-Broadway smash hit!

This all-new version of the show combines the first act of The Marvelous Wonderettes with the first act of the sequel Wonderettes: Caps & Gowns, adding additional characters from the Springfield High Chipmunk Glee Club (any number of boys or girls you need) to create a truly flexible large-cast version of this perennial favorite.

We begin at the 1958 Springfield High School Senior Prom, where we meet Betty Jean, Cindy Lou, Missy, and Suzy, four girls with hopes and dreams as big as their crinoline skirts! As we learn about their lives, loves, and friendships, the girls serenade us with classic '50s hits as they compete for prom queen. Act II zooms ahead to graduation day for the Class of 1958, and the Wonderettes celebrate with their fellow classmates and teachers as they prepare for their next step toward a bright future.

Produce the entire show or either act on its own. Each act runs 45 minutes.

Roles
4W, Ensemble (Flexible)

Musicians
4

Acts
2

Duration
1 hour 30 minutes
Creators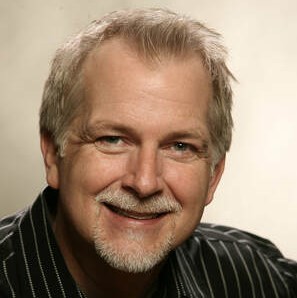 Creator Roger Bean created the long-running hit The Marvelous Wonderettes (over 1,200...
Reviews
"You won't find a more delightful girl group! These irrepressible, bubbly Wonderettes are singing their hearts out in this charming, fast-paced musical. Beautiful singing, well-honed timing, often poignant, and highly entertaining."
Associated Press

---
"Iconic '50s pop hits shine in this bubbly musical."
New York Magazine

---
"Wonder women: a simply marvelous time-travel!"
The Portland Phoenix

---
Orchestrations
4 Musicians
Drums, Guitar, Keyboard 1, Keyboard 2
Casting
Cindy Lou
Female - 17
Knows she is the prettiest girl at Springfield High. She knows she will be named Prom Queen and acts out against her best friend Betty Jean when things don't go her way. Mezzo Soprano Belt— sings lead line on most songs.
Missy
Female - 17
The over-achiever of the group. Very controlled, very concerned that everything at the prom turns out wonderful and perfect. Head of the Prom Decorations Committee; and absolutely smitten with her music teacher. Her best friend is Suzy. Soprano— wide range, very high vocals and belts throughout the show.
Betty Jean
Female - 17
The class clown and tomboy, always vying for attention with Cindy Lou, her best friend. It's also possible that Betty Jean wants to be with Cindy Lou herself, but just doesn't even know what those feelings really are. Cindy Lou steals Betty Jean's boyfriend away, which causes a lot of the friction at the prom. Alto with a strong low range.
Suzy
Female - 17
The happy-go-lucky and slightly ditzy blond one of the group, and best friends with Missy. Always smiling and giggling, nothing ever seems to bother Suzy. In love with the lighting operator, she is completely surprised when named prom queen. Mezzo Alto, with big belt. This role requires an excellent part singer and comedienne.
Patty
Female - 16
The reigning junior varsity super Chipmunk, and the de-facto leader of the Glee Club. She can sing any of the three parts assigned to the Glee Club.
The Glee Club
The rest of the Glee Club can be comprised of as many girls (and boys) as desired. Most of the story is told by the four leaders, with the Glee Club singing and dancing with them throughout.
Production Materials
Included in your license are the following cast and crew scripts. These materials will be shipped upon receipt of payment if your license request is approved.
10 Cast Script/Vocal Books
A combination of the show's full script and the full vocal book. All dialogue within each song is printed in the score to prevent flipping back and forth during rehearsals. All books are spiral-bound and double-sided.
2 Director's Scripts
A single-sided, spiral-bound script designed with plenty of space for the director to take notes and add blocking during the rehearsal process.
1 Stage Manager's Script
A single-sided, three-hole punched script that can be inserted into your three-ring binder.
2 Piano/Conductor Scores
A keyboard score that is a key part of the show's actual orchestration. This score contains both vocal parts and a cue staff, which guides the conductor through the full orchestration by informing them when instruments enter the song, as well as providing specific part lines when necessary.
Instrumentation
Drums, Guitar, Keyboard 1, Keyboard 2
Promotional Resources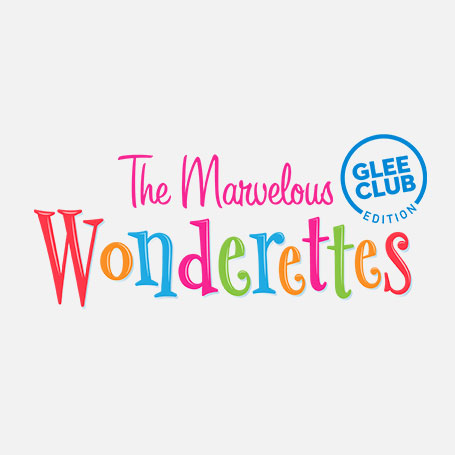 Official Logo Pack
Included with license
Includes color and black and white high-resolution logo files in JPG, PNG, and EPS formats.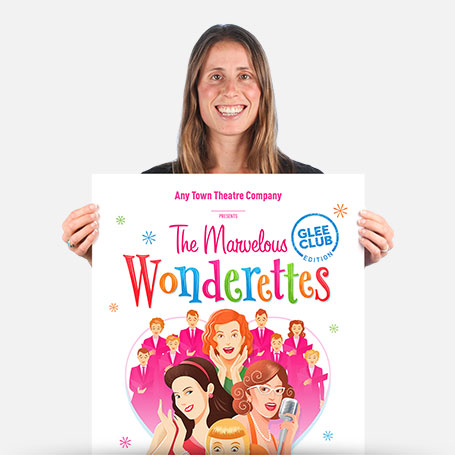 Official Show Artwork
$175
Creating artwork for your performance has never been easier – customize online in minutes, download a print-ready PDF, order printed posters, access layered files.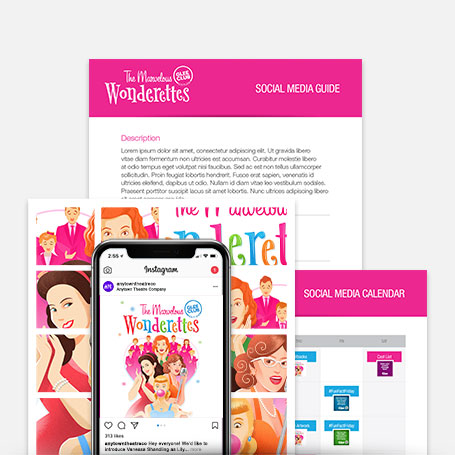 Social Media Marketing Kit
$250
Includes everything you need to plan and implement the promotion of your show – 50+ graphics for social media, original show specific content, social media guide, promotion calendar and press release template.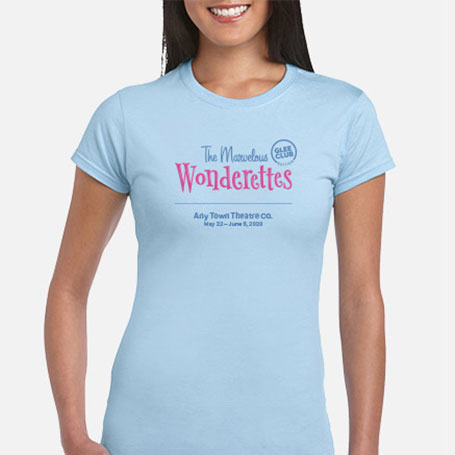 Cast & Crew T-Shirts
As low as $14 each
Broadway Licensing has partnered with Subplot Studio to offer premium-quality Cast & Crew T-Shirts! You can add your theatre name, show dates and even your cast & crew names on the back.
Production Resources
Performance Tracks
Our top-quality digital performance tracks are sent to you through a simple link. Quickly download them to your computer, tablet or smartphone and start rehearsing!
$600
Additional Books
Additional books (Cast Script/Vocal, Piano/Conductor, etc.) are available.
$25 each
Full Conductor Score
An ideal solution for those who choose to conduct their show from the podium, as opposed to the piano. Each detailed instrument staff is always right in front of you--giving you the most comprehensive layout for full control of your orchestra.
$125/Print, $100/Digital, $175/both
Digital Orchestration Parts
Prefer playing or rehearsing from your tablet? All of our orchestration scores (including PC and PV) are available in digital copies.
Digital PC or PV $50
Full Digital Orchestration Set $150
Sound Effects Package
Our easily downloadable SFX package includes all the necessary noises to enhance your production. No additional software is required so you can simply run these from a computer, phone or tablet.
$100
Broadway Plus
A workshop experience in which a Broadway artist speaks and works with students in an educational setting through our partnership with Broadway Plus.
Prices Vary by Product
TurnKey Transpositions
Broadway stars change the keys of songs all the time...so why not you? Optimize your actors' performances by ordering our TurnKey Transposition. Get the perfect key for the perfect actor! All digital delivery, usually within 24 hours.
$50 per song for PV or PC
$150 per song for all orchestral parts (including PC/PV)
Also Available