One Hit Wonder

Rick is a rock and roll god! …at least, in his dreams. In reality, he's a dive bar singer who just got canned from his latest gig. His lone badge of honor: a Battle of the Bands victory fifteen years ago when Rick and his high school girlfriend, Ashley, debuted their original duet, "One Hit Wonder" and caused a sensation for one magical night. Of course, that's all a distant memory, since the couple — and the band — broke up. Ashley's now a high-powered executive in the big city, while Rick still clings to dreams of making it big in music.

When an old video of Rick and Ashley's Battle of the Bands performance unexpectedly goes viral, pop mega-songstress Mercy Faith invites them to open her world tour. Personalities clash and jealousies rage, as Rick and Ashley are forced to deal with the realities of fame. With their reunited band and rekindled relationship both on the line, will their spark reignite, or will they forever remain a "one hit wonder"?

Described as a "Rock of Ages for all ages," this wildly fun new pop/rock jukebox musical includes the greatest one-hit wonders like "Walking on Sunshine," "Livin' La Vida Loca," and "Tainted Love." One Hit Wonder is all about music, love, and second chances… and it is all set to a soundtrack of the greatest one-hit wonders of all time.

Roles
4F, 3M + Ensemble

Musicians
9

Acts
2

Duration
1 hour 50 minutes
Creators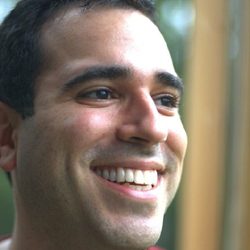 Book Jeremy Desmon is an award-winning musical theatre bookwriter whose stories have played around the world. The Girl in the Frame, seen in over a dozen productions, earned him the prestigious Edward...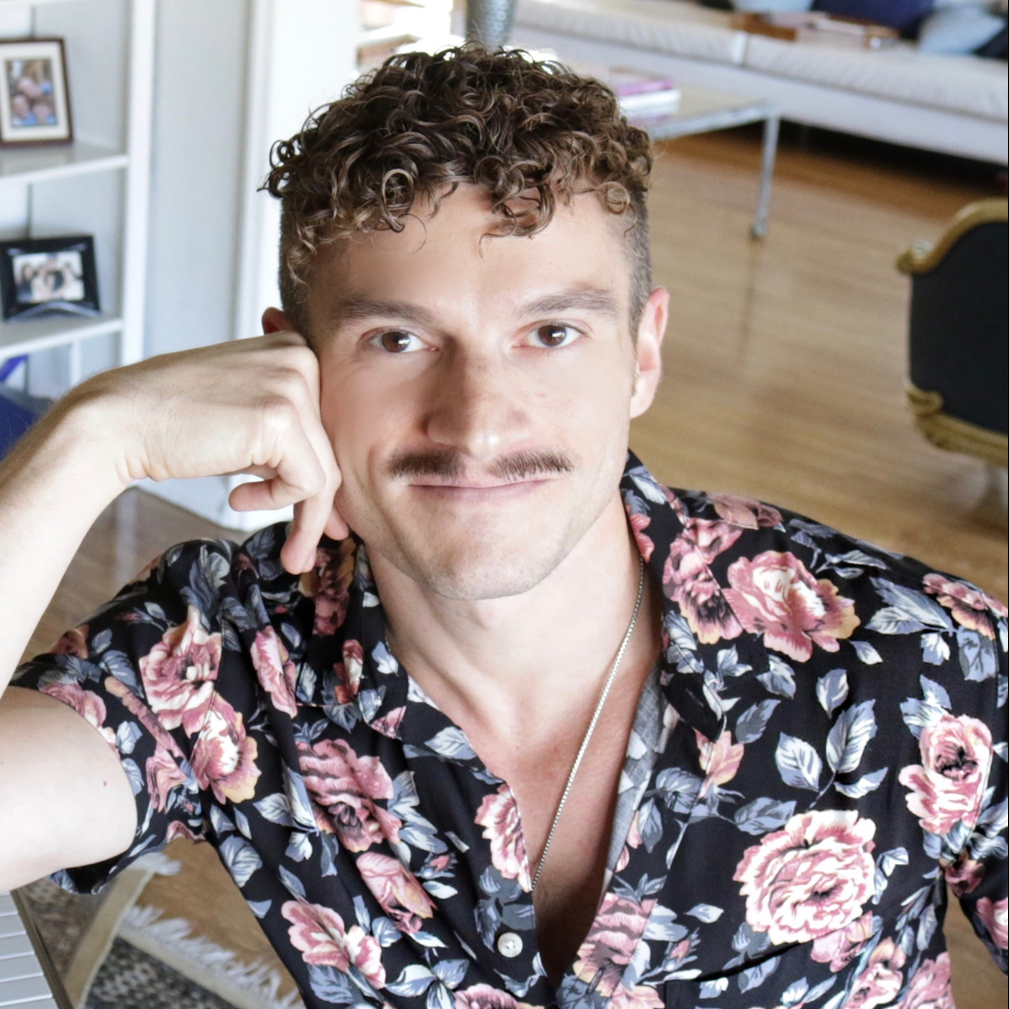 Arrangements/Orchestrations Jesse Vargas: Television-Crazy Ex-Girlfriend. Broadway-Glory Days; The Ritz. Off-Broadway: Saved; bare; Rooms; Shida. Tour-Xanadu; Barry Manilow's...
Reviews
"A thrill... all-around wonderful time."
BroadwayWorld

---
Orchestrations
9 Musicians
Keyboard 1/Conductor
Keyboard 2
Keyboard 3/Percussion
Acoustic/Electric Guitar 1
Electric Guitar 2
Electric Bass
Drums/Percussion
Reed (Flute/Alto Sax/Tenor Sax/Bari Sax/Percussion)
Trumpet
Casting
Rick
Male - 30s
Sexy, stubble-y, rough-and-tumble, rock-n-roll dreamer playing dive bars still hoping to "make it." Won't grow up. Lives on a couch. Pines for Ashley, the girl that got away.
Ashley
Female - 30s
Rick's ex. A high-powered, extremely focused NYC exec who gave up music (and Rick) for power suits years ago. She craves stability, but you just know she still belts power ballads in the shower.
Gunner
Male - 30s
Rick's surly, grumpy sourpuss bassist and best friend. Expressionless. Opinionated. Cares about music more than you know.
Mercy Faith
Female - 20s
Vapid, kittenish, Kardashian-esque former-child-starcum-Pop-Mega-Songstress. Prefers Tweeting to talking. Has a thing for Rick, but she's far too young for him.
Fiona
Female - 30s
Mercy's kick-ass, British, no-nonsense rock-n-roll manager. Schmoozy. Competitive. A PR whiz.
Stewart
Male - 40s
Ashley's safe, adorably square, lovably pragmatic boyfriend, i.e., a man who would actually use the word "pragmatic." The opposite of Rick in every way.
Sylvia Jagger
Male - 40s
A saucy and uncouth Rolling Stone reporter of indeterminate age. Former rock-n-roll super-groupie who's seen it all.
Ensemble
Male & Female
Roles include: Bartender, Bar Patrons, Office Workers, Social Media Mavens/Tweeters, Dancers (Andromeda, Baja & Harley), Roadies (Jet, Ryker, Vlad & Kato), Beautiful People (Simone, Nigel, Ludvig & Inez), Fans, Band Members, Girl With Guitar, Larry-The-Owner and, of course, Reynaldo.
Production Materials
Included in your license are the following cast and crew scripts. These materials will be shipped upon receipt of payment if your license request is approved.
15 Cast Script/Vocal Books
A combination of the show's full script and the full vocal book. All dialogue within each song is printed in the score to prevent flipping back and forth during rehearsals. All books are spiral-bound and double-sided.
2 Director's Scripts
A single-sided, spiral-bound script designed with plenty of space for the director to take notes and add blocking during the rehearsal process.
1 Stage Manager's Script
A single-sided, three-hole punched script that can be inserted into your three-ring binder.
2 Piano/Conductor Scores
A keyboard score that is a key part of the show's actual orchestration. This score contains both vocal parts and a cue staff, which guides the conductor through the full orchestration by informing them when instruments enter the song, as well as providing specific part lines when necessary.
Instrumentation
Keyboard 1/Conductor, Keyboard 2, Keyboard 3/Percussion, Acoustic/Electric Guitar 1, Electric Guitar 2, Electric Bass, Drums/Percussion, Reed (Flute/Alto Sax/Tenor Sax/Bari Sax/Percussion), Trumpet
Promotional Resources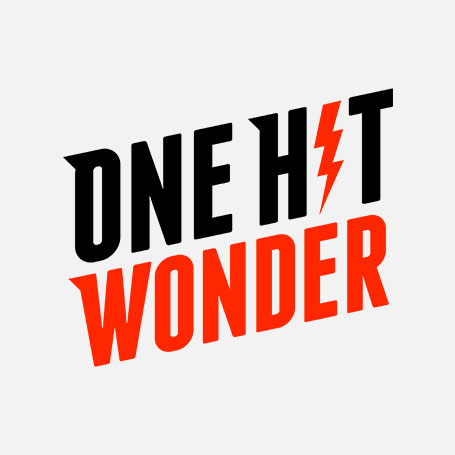 Official Logo Pack
Included with license
Includes color and black and white high-resolution logo files in JPG, PNG, and EPS formats.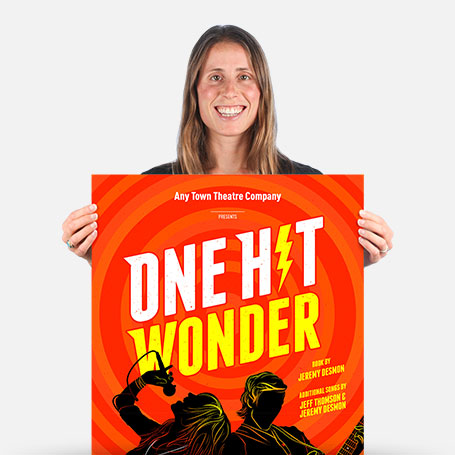 Official Show Artwork
$175
Creating artwork for your performance has never been easier – customize online in minutes, download a print-ready PDF, order printed posters, access layered files.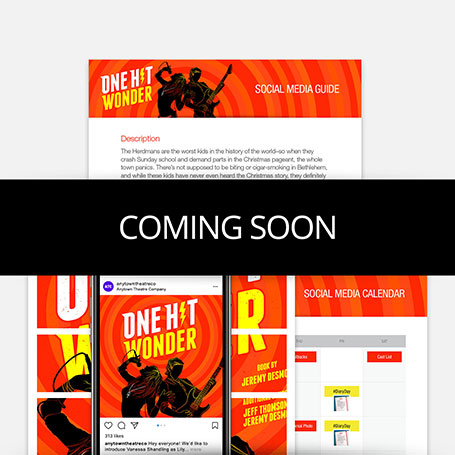 Social Media Marketing Kit
$250
Includes everything you need to plan and implement the promotion of your show – 50+ graphics for social media, original show specific content, social media guide, promotion calendar and press release template.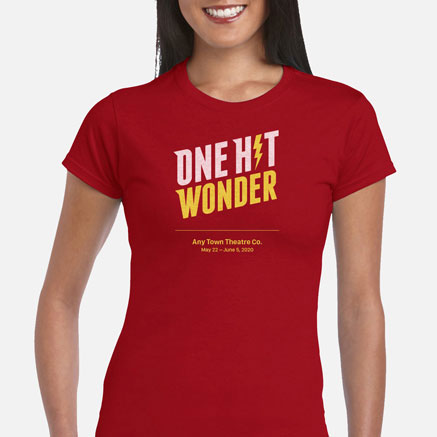 Cast & Crew T-Shirts
As low as $14 each
Broadway Licensing has partnered with Subplot Studio to offer premium-quality Cast & Crew T-Shirts! You can add your theatre name, show dates and even your cast & crew names on the back.
Production Resources
Archival Video License
If you want to record your production for archival purposes you may do so by purchasing a video license. This allows you to record one performance for your internal archives only. This archival copy can be distributed to your cast and crew. The archival recording cannot be distributed or posted online. Archival License availability varies by title and all requests must be approved by Broadway Licensing Group.
$150


Private: ShowShare™ powered by Stellar
The official streaming platform offered by Broadway On Demand and powered by Stellar Tickets provides approved theatrical productions the opportunity to stream to their audiences via a global platform. No more technology or service fees! Customers keep 55% of their box office and the remaining 45% covers author and technology royalties, paid directly to save you the trouble. A Live/Video Archival License is required.
Additional Books
Additional books (Cast Script/Vocal, Piano/Conductor, etc.) are available.
$25 each
Full Conductor Score
An ideal solution for those who choose to conduct their show from the podium, as opposed to the piano. Each detailed instrument staff is always right in front of you--giving you the most comprehensive layout for full control of your orchestra.
$125/Print, $100/Digital, $175/both
Digital Orchestration Parts
Prefer playing or rehearsing from your tablet? All of our orchestration scores (including PC and PV) are available in digital copies.
Digital PC or PV $50
Full Digital Orchestration Set $150
Keyboard Patch Designer
Broadway-quality virtual instrument patches that will enrich the sound and sonic scope of your orchestra! Keyboard patch designer is used by your live keyboard player. Requires a Mac computer with the Mainstage 3 app and a keyboard with a USB connection.
$200
Broadway Plus
A workshop experience in which a Broadway artist speaks and works with students in an educational setting through our partnership with Broadway Plus.
Prices Vary by Product
TurnKey Transpositions
Broadway stars change the keys of songs all the time...so why not you? Optimize your actors' performances by ordering our TurnKey Transposition. Get the perfect key for the perfect actor! All digital delivery, usually within 24 hours.
$50 per song for PV or PC
$150 per song for all orchestral parts (including PC/PV)
Credits
Book by
Jeremy Desmon
Arrangements and Orchestrations by
Jesse Vargas
"Closing Time"
Written by Dan Wilson
Administered by WB Music Corp o/b/o Sugar Lake Music LLC (ASCAP). Used by permission. All rights reserved.
"Everything About You"
Written by Whitfield Crane and Klaus Eichstadt
Used by permission of Sloppy Slouch Music (ASCAP). All rights reserved.
"Hey Leonardo (She Likes Me For Me)"
Written by Matthew Senatore, Eliot Sloan and Jeff Pence
Administered by EMI April Music Inc. c/o Sony/ATV Music Publishing (ASCAP), Shapiro Bernstein & Co, Inc. (ASCAP), and WB Music Corp o/b/o itself and Tosha Music (ASCAP). Used by permission. All rights reserved.
"Hot, Hot, Hot!"
Written by Alphonsus Cassell
Administered by BMG Monarch o/b/o Chrysalis Music Ltd (ASCAP). Used by permission. All rights reserved.
"I Melt With You"
Words and Music by Robbie Grey, Gary McDowell, Richard Brown, Michael Conroy and Stephen Walker
© Universal Songs of Polygram International Inc. (BMI). Not for broadcast transmission.
All rights reserved. DO NOT DUPLICATE.
"I Try"
Written by Renee Natalie McIntyre, Jeremy Ruzumna, Jinsoo Lim and David Wilder
Administered by Music of Stage Three (BMI), BMG Platinum Songs (BMI), Wixen Music Publishing o/b/o Roastitoasti Music (ASCAP), Jinsoo Lim Music (ASCAP) and Ooky Spinalton Music (ASCAP). Used by permission. All rights reserved.
"Livin' La Vida Loca"
Written by Robi Rosa and Desmond Child
Administered by BMG Gold Songs (ASCAP) o/b/o Desmophobia (ASCAP) and Warner-Tamerlane Publishing Corp. (BMI)
"Rescue Me"
Written by Raynard Miner and
Carl Smith
Administered by Chevis Publishing Corp c/o Sony/ATV Music Publishing (BMI)
"Tainted Love"
Composed by Ed Cobb
Copyrights © 1976 (Renewed) Embassy Music Corporation (BMI)
Used by permission.
"Take On Me"
Written by Magne Furuholmen, Morten Harket and Pål Waaktaar
Administered by Sony/ATV Music Publishing (UK) Limited. (BMI). Used by permission. All rights reserved.
"Thank You For Being A Friend"
Written by Andrew Gold
Administered by Kobalt Music Publishing America, Inc. o/b/o Songs Of Kobalt Music Publishing (BMI) and Luckyu Music (BMI). Used by permission. All rights reserved.
"Walking On Sunshine"
Written by Kimberley Rew
Administered by BMG Platinum Songs (BMI) o/b/o Kyboside Ltd (PRS). Used by permission. All rights reserved.
"What Is Love" Written by Junior Torello and Dee Dee Halligan Administered by WB Music Corp. on behalf of Hanseatic Musikverlag GMBH & Co. KG (GEMA). Used by permission. All rights reserved.
"You Get What You Give"
Written by Gregg Alexander and Rick Nowels
Administered by Music of Stage Three (BMI)/ Spirit Four Music o/b/o Spirt Services Holdings, S.A.R.L (ASCAP). Used by permission. All rights reserved.
"You Sexy Thing"
Written by Errol Brown
Administered by Finchley Music Corp (ASCAP) c/o Kobalt Music Publishing America, Inc. Used by permission. All rights reserved.
"One Hit Wonder"
Written by Jeremy Desmon and Jeffrey Thomson
Araca Productions LLC
"All About the Girl"
Written by Jeremy Desmon and Jeffrey Thomson
Araca Productions LLC
Also Available