Zombies from the Beyond

A musical comedy celebration of American ideals and foibles in the Eisenhower era. Songs, dances, and laughs abound in the unlikeliest of settings as the Cold War and space race paranoia threaten the good folks at the fictional Milwaukee Space Center in 1955, where the staff is all abuzz at the arrival of rocket scientist Trenton Corbett. The budding romance of Trenton and Mary—the daughter of Space Center commander Major Malone—is jeopardized when a flying saucer lands in Milwaukee. The craft is piloted by Zombina, a buxom alien aviatrix bent on procuring he-specimens to re-populate her planet. Can Mary uphold her lady-like demeanor while using her facile intelligence to save Milwaukee from a Red Menace and a flying saucer invasion? Can plucky delivery boy Billy ever get secretary Charlene to notice his tap-dancing charms?? Can the stalwart men of Milwaukee survive brainwashing by a musical menace from another world who gives new meaning to "stratospheric" soprano??? Taking its cue from pulp movies popular at the time, ZOMBIES FROM THE BEYOND brings the 1950s nostalgically and hilariously to life with a tuneful, toe-tapping score.

Roles
3F, 4M

Musicians
3

Acts
2

Duration
2 hours
Creators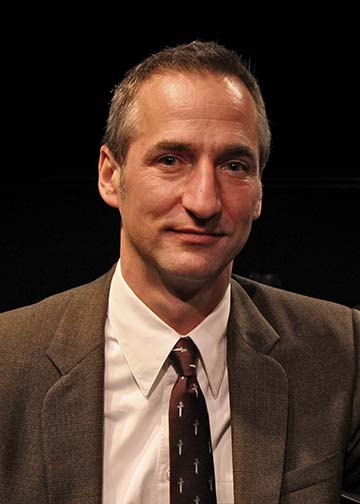 Book, Music & Lyrics Off-Broadway: THE SPITFIRE GRILL with collaborator Fred Alley (Playwrights Horizons, 2001) which won the 2001 Richard Rodgers Production Award and received Best Musical nominations from the Outer Critics Circle and Drama League as...
Reviews
"Dead aim, deadpan, dead-on new musical with keen-eyed skill to spare."
The New York Times

---
"A splendid surprise. This crazy satire is absolutely enchanting. By all means see it—it's 24-carat fun."
New York Post

---
"Hilarious! Superb! Marvelous! Out of this world! A droll, tongue-in-cheek book and a zippy score. A dizzy musical above and beyond the call of hilarity."
New York Daily News

---
"James Valcq's book and songs are ten times cleverer than anything on Broadway right now. This is a scream, hoot and holler from A to Z and will probably turn up on many small theatres' rosters thanks to its small set and cast."
BackStage

---
Orchestrations
3 Musicians
Piano/Conductor
Accordion
Percussion

Production Materials
Included in your license are the following cast and crew scripts. These materials will be shipped upon receipt of payment if your license request is approved.
5 Cast Script/Vocal Books
A combination of the show's full script and the full vocal book. All dialogue within each song is printed in the score to prevent flipping back and forth during rehearsals. All books are spiral-bound and double-sided.
2 Director's Scripts
A single-sided, spiral-bound script designed with plenty of space for the director to take notes and add blocking during the rehearsal process.
2 Piano/Conductor Scores
A keyboard score that is a key part of the show's actual orchestration. This score contains both vocal parts and a cue staff, which guides the conductor through the full orchestration by informing them when instruments enter the song, as well as providing specific part lines when necessary.
Production Resources
Digital Orchestration Parts
Prefer playing or rehearsing from your tablet? All of our orchestration scores (including PC and PV) are available in digital copies.
PC or PV $50
Orchestration Parts $25/per book