Debbie Does Dallas

The most important theatrical event of the twenty-first century, Debbie Does Dallas is a modern morality tale told as a comic musical of tragic proportions in the language of the rodeo-porno-football circus. The show is the coming-of-age story of an all-American small-town sweetheart named Debbie Benton. Debbie is captain of her high-school cheerleading team, but she dreams of making it to the big time by becoming a Texas Cowgirl Cheerleader. When Debbie receives a letter telling her she has qualified for the professional squad, the only thing that stands between her and the realization of her dream is bus fare to the big city: Dallas. Debbie enlists her teammates, Lisa, Roberta, Donna and Tammy, to get full-time jobs after school and on weekends to help pay for her trip to Dallas. The girls form a company called Teen Services and get jobs, but they quickly realize minimum-wage jobs just don't pay enough. Luckily, Debbie's boss, Mr. Greenfelt, has an idea how the girls can raise enough money in time. Debbie tells the girls about Mr. Greenfelt's idea, and they all agree to try their hands at "little favors" performed with enthusiasm by "good girls." The girls "work hard for the money" and through sex, sweat and tears, they manage to raise enough money for Debbie to realize her dream and make it all the way to Dallas.

The show is meant to be performed to recorded tracks which are included with the materials. There are no live musicians.

Roles
5F, 3M

Acts
1

Duration
90 minutes
Creators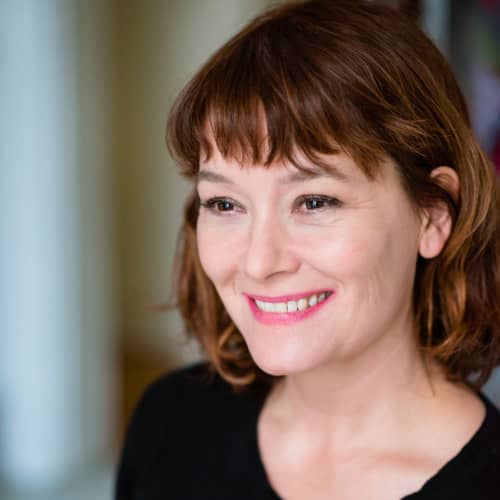 Adaptation Erica Schmidt's directing credits include: Mac Beth (previously at Seattle Rep and Juilliard); Richard II with Robert Sean Leonard (The Old Globe); All The Fine Boys (The New Group);...
Composer Bio coming soon…
Conceived by Bio coming soon…
Reviews
"An uproarious good time."
Austin 360

---
Orchestrations
0 Musician
The show is meant to be performed to recorded tracks which are included with the materials. There are no live musicians.
Casting
Debbie Benton
Female
The heroine. Debbie is a small-town girl with big city dreams. On the surface she looks like a bombshell blonde, voluptuous and squeaky clean; underneath she is an existentialist. She thinks deeply about things and is nonjudgmental and generous by nature. She forgives easily but she also has the conviction/determination to pursue her dreams and achieve it... regardless of the cost. Debbie's growing up is the journey of the play. She must be able to sing and cheer well.
Lisa
Female
Lisa is a great cheerleader. She is essentially, "the hooker with the heart of gold" or "the bad girl we love to hate." Lisa is manipulative and sneaky, she plots to steel Debbie's boyfriend (and succeeds), but she carries off her bad-girl ways in a manner that makes us love her. She enjoys the way she looks, has a healthy sexuality, and loves to use her looks and charm and sex even in casual conversation (making for comedy). Lisa has grown up lower-class. She also sets goals for herself and achieves them, she just doesn't aim very high. Must also sing and cheer well.
Roberta
Female
Roberta is the most naive, spacey, air-headed of all the girls and this is because she choose to be. She lives in her own world in a kind of ventilated bubble of choosing to hear what sounds fun and blocking out everything else; she has a selective memory. Roberta and Lisa are best friends, and, like Lisa, Roberta is very comfortable with the way she looks and has a lot of sex. She comes from money. She has a boyfriend, Johnny, but they enjoy and open relationship.
Donna
Female
Donna is a poet. She is the dark angel of the team and a study in contradictions. She has a boyfriend, Tim, but her closest allegiance is to Tammy (who is a prude). Donna wants to experiment with sex, but doesn't want to be branded as "easy." She is concerned about what people will say and very worried about the censure of her parents. She is thoughtful and smart. Her favorite poet is probably Sylvia Plath, but her favorite movie is probably Titanic.
Tammy
Female
Tammy wants to be senator when she grows up. She is a young Hillary Clinton with a sense of humor. Her role models are probably Condoleeza and Madonna. She is prone to wisecracks and smart comments that sometimes go over the heads of her teammates, although she remains nonjudgmental of their choices (or tries to). She does not have a boyfriend. She is probably a cheerleader because it helps to have an extracurricular sport on your transcript when you apply to college, but she is also good at cheering. Tammy is best friends with Donna. She is a virgin and remains so.
Actor 1
Male
Actor One is the quintessential suburban American high-school heartthrob. He must transform from role to role (and these roles are pretty similar and therefore harder to make distinct) and be funny and loveable and elicit nostalgia for high-schools days. Actor 1 plays Rick, Hamilton, and BigTime.
Rick
Male
Rick really wants to have sex. He is the quarterback and captain of the football team, and his girlfriend is the captain of the cheerleaders (Debbie). Rick is a typical all-American 18-year-old suburban high-school guy.
Hamilton
Male
Hamilton is a rich, young tennis pro who owns a set of courts in town and gives lessons. He is arrogant, snobby, chauvinistic, and the only really aristocratic presence is the show.
Bigtime
Male
Bigtime is the owner of the Dallas Cowboys football team and cheerleading squad. He is the most important man in Dallas. He has a southern accent and is a bit of a cowboy. Mr. Bigtime makes only a cameo appearance.
Actor Two
Male
Actor Two must be a character actor who has the ability to be funny (and transformative) and also have real depth, soul, and likeability in the role of Greenfelt. Actor Two plays Greenfelt, Biddle, and Kevin.
Greenfelt
Male
Mr. Greenfelt owns the local sports good store. He is unmarried and lonely. Greenfelt wanted to be an athlete all through high school and community college, but he never made it. Now he owns a sports store and specializes in selling other people on their dreams. He is understated and earnest. Greenfelt has a real thing for Debbie and, while he is desperate to get in her pants in an aggressive/macho/man's-man kind of way, he deals with his desire in a gentlemanly fashion. He is a simple man; he isn't brilliant, but he isn't stupid; he means everything he says without any manipulation or malice. He cannot be smarter than Debbie although he has more life experience; they are equals.
Biddle
Male
Mr. Biddle works at the high-school library. He is repressed and reserved. Biddle is a forgotten generation in his principles and etiquette. (He is a male character in a porno and he does not want sex.) He is smart, rash, quick to anger and passionate about poetry.
Kevin
Male
A high-school jock. Kevin is a friend of Rick's and an all-American football player. He drinks beer and cuts school. He is suburban.
Actor Three
Male
Plays five roles and, therefore, must be facile at quick and total character transformations that are each equally funny. A comic. Actor Three Also appears as himself and as the speaking roustabout. Actor Three plays Hardwick, Bradley, Ashley, Nick, Johnny, and Tim.
Hardwick
Male
Mr. Hardwick is a swinger. Hardwick owns a candle shop with his wife and has probably spent the last ten years of married life shopping for a third party for their sexual activities. He is open and fun-loving. You would think he is a hippie, but there is actually something very Mr. Rogers about him.
Bradley
Male
Mr. Bradley is the kind of man who hires high-school girls to was his car in his driveway while his wife is at work. He is the high-school Spanish teacher and chooses to speak only that language. He is American middle-class: medium everything.
Ashley
Male
Ashley is good friends with Hamilton (who owns the tennis courts). Like Hamilton, Ashley comes from money and has never had to work, but unlike Hamilton, Ashley is challenged when it comes to scoring ladies.
Nick
Male
Nick is college-aged. He works at the record store and is a bit of a musical snob, one of those guys who is nerdy but makes himself cool by acquiring insane amounts of knowledge about obscure bands. He has a certain cool-guy youth, charm, and appeal but in a very Athens, Georgie/High Fidelity kind of way.
Johnny
Male
Johnny is the tight end on the football team. He is Rick's friend and a typical football-playing all-American high-school type.
Tim
Male
Tim is also on the high-school football team. He is much more bookish than Rick; he is Donna's boyfriend. Tim is shy and soft-spoken and sweet.
Production Materials
Included in your license are the following cast and crew scripts. These materials will be shipped upon receipt of payment if your license request is approved.
8 Cast Script/Vocal Books
A combination of the show's full script and the full vocal book. All dialogue within each song is printed in the score to prevent flipping back and forth during rehearsals. All books are spiral-bound and double-sided.
2 Director's Scripts
A single-sided, spiral-bound script designed with plenty of space for the director to take notes and add blocking during the rehearsal process.
1 Stage Manager's Script
A single-sided, three-hole punched script that can be inserted into your three-ring binder.
Instrumentation
Performance Tracks (included in your Production Package)
Promotional Resources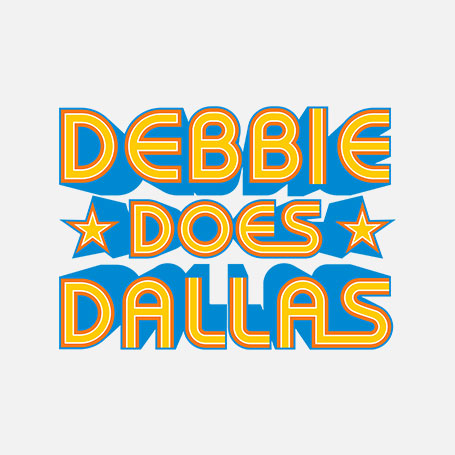 Official Logo Pack
Included with license
Includes color and black and white high-resolution logo files in JPG, PNG, and EPS formats.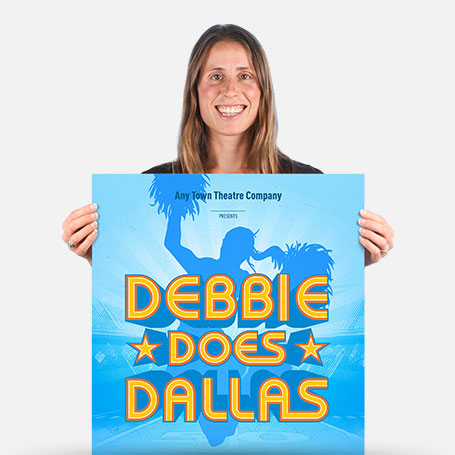 Official Show Artwork
$175
Creating artwork for your performance has never been easier – customize online in minutes, download a print-ready PDF, order printed posters, access layered files.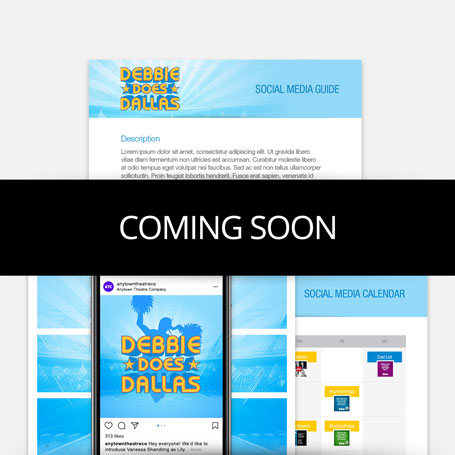 Social Media Marketing Kit
$250
Includes everything you need to plan and implement the promotion of your show – 50+ graphics for social media, original show specific content, social media guide, promotion calendar and press release template.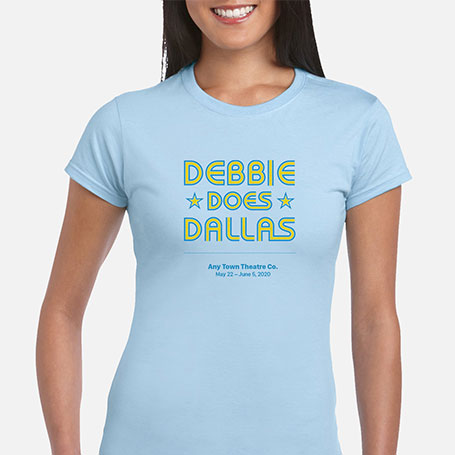 Cast & Crew T-Shirts
As low as $14 each
Broadway Licensing has partnered with Subplot Studio to offer premium-quality Cast & Crew T-Shirts! You can add your theatre name, show dates and even your cast & crew names on the back.
Production Resources
Additional Books
Additional books (Cast Script/Vocal, Piano/Conductor, etc.) are available.
$25 each
Digital Orchestration Parts
Prefer playing or rehearsing from your tablet? All of our orchestration scores (including PC and PV) are available in digital copies.
Digital PC or PV $50
Full Digital Orchestration Set $150
Broadway Plus
A workshop experience in which a Broadway artist speaks and works with students in an educational setting through our partnership with Broadway Plus.
Prices Vary by Product