Winter Wonderettes

The Wonderettes are back! This seasonal celebration finds the girls entertaining at the annual Harper's Hardware Holiday Party. When Santa turns up missing, the girls use their talent and creative ingenuity to save the holiday party! Featuring great '60s versions of holiday classics such as "Santa Claus Is Comin' to Town," "Jingle Bell Rock," "Run, Rudolph, Run," and "Winter Wonderland," the result is, of course, marvelous! This energetic and glittering holiday package is guaranteed to delight audiences of all ages.

Roles
4W

Musicians
5

Acts
2

Duration
1 hour 45 minutes
Creators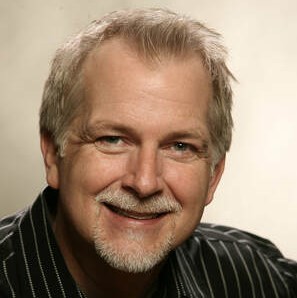 Creator Roger Bean created the long-running hit The Marvelous Wonderettes (over 1,200...
Videos
Reviews
"The perfect Christmas revue! Crackles with energy and joy!"
LA Weekly

---
"A scrumptious confection! This glittering holiday package is a sugar plum delight for audiences of all ages!"
Backstage

---
Orchestrations
5 Musicians
Keyboard/Conductor Score
Guitar
Bass
Drums
Reed (Flute, Alto Sax, Tenor Sax) (+ Sleigh Bells, Shaker, Cowbell, Claves, Tambourine)
Casting
Cindy Lou
Female - 28
Cindy Lou is the "bad girl" of the group, now reformed (to a point). She is sexy with a dry and sassy wit, and has a miles-high jet-black beehive, a cross between the Ronettes and early Priscilla Presley. She has a tattoo on her left upper arm that reads "Billy Ray," her boyfriend who passed away a few years back (from The Marvelous Wonderettes). Until that time it seemed that things always went her way, making Betty Jean crazy. She has an incredible soft side and inner depth, revealed in her Act II monologue and ballad. (Mezzo Soprano with belt— sings lead vocal line on most group songs. Range: A3–E5)
Missy
Female - 28
Always the over-achiever of the group, Missy has now blossomed into a full-fledged adult over-achiever. She is an elementary school teacher with cat-eye glasses. She has recently returned from her honeymoon with her new husband Bill, an audience member. She controls the evening's events, even when Betty Jean is in charge: Missy is the one to cover for mistakes, and is always ready to jump in and save the day. She has an inner-sexiness (even slightly kinky) that comes out every once-in-a-while, much to her surprise and embarrassment. She has been best friends with Suzy since elementary school. (Soprano with belt. Range: F#3–A5)
Betty Jean
Female - 28
Betty Jean is the self-anointed clown of the group, always vying for attention from her best friend Cindy Lou. She loves that she is in finally in charge of the group, if only for this one performance. She has worked at Harper's Hardware since High School and is now in Corporate Sales, a fact she's very proud of. After a few tumultuous years, she married her high-school boyfriend Johnny, who also used to work at Harper's Hardware. We learn that they have recently separated for good. She has a strength that belies her goofiness. This strength is what gives her empathy; she has no "poor me" in her attitude. This pays off in her Act I closing song. Her hair is red/auburn. (Strong Alto with big belt. Range: D3­–Eb5)
Suzy
Female - 28
Suzy is happy-go-lucky, a little giddy, a little silly, and a little pregnant. She's always willing to go along with anyone and anything, and she seems to giggle at just about anything. She finds great pleasure in everything she does; the sillier it is, the more fun she finds it. Her pregnancy has brought out her attention-deficit disorder, and she reverts to her childhood on the drop of a dime. She is married to Ritchie, her high-school sweetheart, who is running the lights for the performance. Her honey-blond hair is reminiscent of early Marlo Thomas/"That Girl." Her best friend is Missy. (Mezzo/Alto with big belt. Range: C#3–E5)
Production Materials
Included in your license are the following cast and crew scripts. These materials will be shipped upon receipt of payment if your license request is approved.
4 Cast Script/Vocal Books
A combination of the show's full script and the full vocal book. All dialogue within each song is printed in the score to prevent flipping back and forth during rehearsals. All books are spiral-bound and double-sided.
2 Director's Scripts
A single-sided, spiral-bound script designed with plenty of space for the director to take notes and add blocking during the rehearsal process.
1 Stage Manager's Script
A single-sided, three-hole punched script that can be inserted into your three-ring binder.
1 Piano/Conductor Score
A keyboard score that is a key part of the show's actual orchestration. This score contains both vocal parts and a cue staff, which guides the conductor through the full orchestration by informing them when instruments enter the song, as well as providing specific part lines when necessary.
1 Rehearsal Piano Score
This piano score is a reduction of the full orchestra, designed to be used during the rehearsal process. All vocal parts are included in this score.
Promotional Resources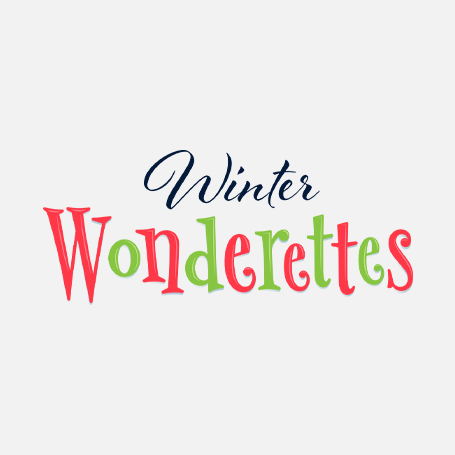 Official Logo Pack
Included with license
Includes color and black and white high-resolution logo files in JPG, PNG, and EPS formats.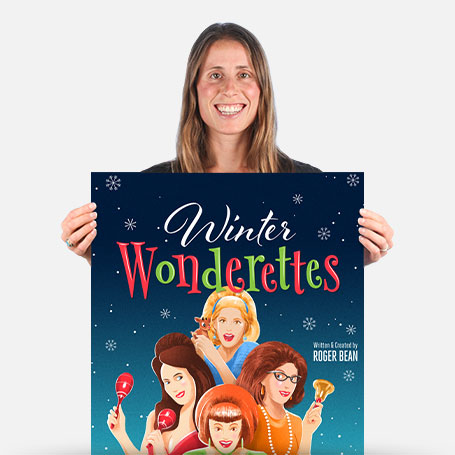 Official Show Artwork
$175
Creating artwork for your performance has never been easier – customize online in minutes, download a print-ready PDF, order printed posters, access layered files.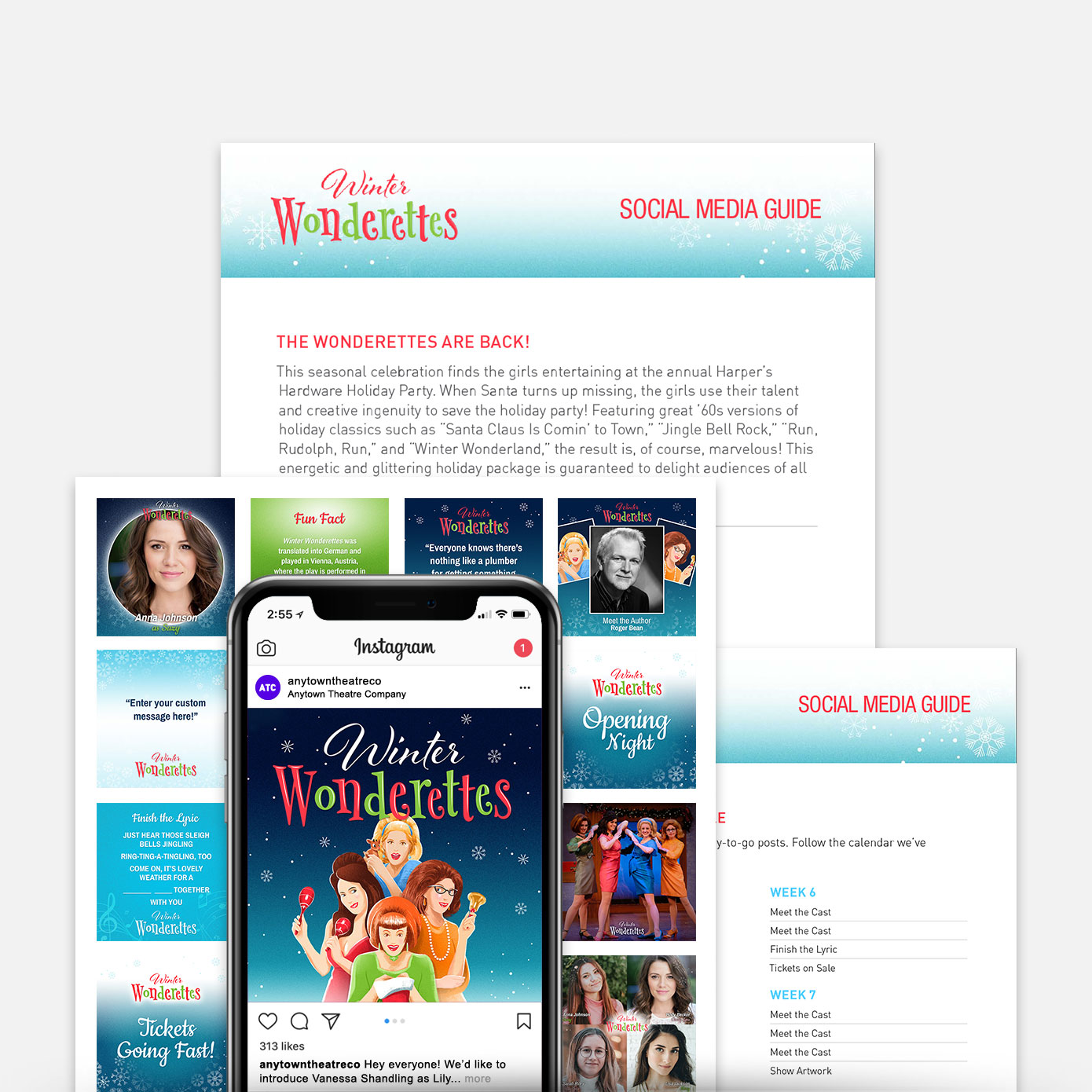 Social Media Marketing Kit
$250
Includes everything you need to plan and implement the promotion of your show – 50+ graphics for social media, original show specific content, social media guide, promotion calendar and press release template.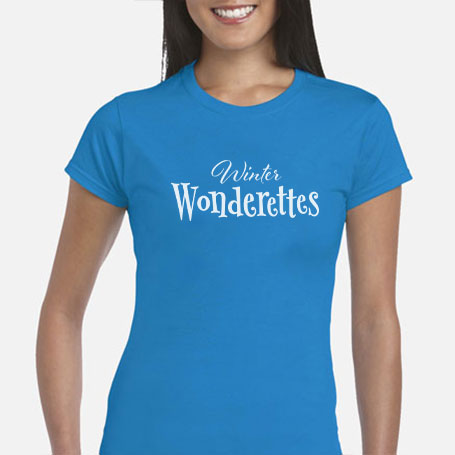 Cast & Crew T-Shirts
As low as $14 each
Broadway Licensing has partnered with Subplot Studio to offer premium-quality Cast & Crew T-Shirts! You can add your theatre name, show dates and even your cast & crew names on the back.
Production Resources
Archival Video License
If you want to record your production for archival purposes you may do so by purchasing a video license. This allows you to record one performance for your internal archives only. This archival copy can be distributed to your cast and crew. The archival recording cannot be distributed or posted online. Archival License availability varies by title and all requests must be approved by Broadway Licensing Global.
$150


Performance Tracks
Our top-quality digital performance tracks are sent to you through a simple link. Quickly download them to your computer, tablet or smartphone and start rehearsing!
$600
Rehearsal Tracks
Broadway Licensing's rehearsal tracks are like having your own personal music director alongside you as you learn the intricacies of your particular vocal part. Delivered to you digitally, they are easily downloaded on any computer, tablet, or smartphone.
$100
Additional Books
Additional books (Cast Script/Vocal, Piano/Conductor, etc.) are available.
$25 each
Full Conductor Score
An ideal solution for those who choose to conduct their show from the podium, as opposed to the piano. Each detailed instrument staff is always right in front of you--giving you the most comprehensive layout for full control of your orchestra.
$125/Print, $100/Digital, $175/both
Digital Orchestration Parts
Prefer playing or rehearsing from your tablet? All of our orchestration scores (including PC and PV) are available in digital copies.
Digital PC or PV $50
Full Digital Orchestration Set $150
Broadway Plus
A workshop experience in which a Broadway artist speaks and works with students in an educational setting through our partnership with Broadway Plus.
Prices Vary by Product
TurnKey Transpositions
Broadway stars change the keys of songs all the time...so why not you? Optimize your actors' performances by ordering our TurnKey Transposition. Get the perfect key for the perfect actor! All digital delivery, usually within 24 hours.
$50 per song for PV or PC
$150 per song for all orchestral parts (including PC/PV)
Also Available