Winner of the 2009 Tony Award for Best Play, God of Carnage is described as a comedy of manners without the manners. Written by Yasmina Reza and translated by Christopher Hampton, the Theater Breaking Through Barriers (TBTB) production not only marks the play's Off-Broadway debut but is also the first New York production since its original award-winning 2009 Broadway run.  
God of Carnage is directed by Nicholas Viselli and stars Tony nominee Christiane Noll (Ragtime), David Burtka (Gypsy), Carey Cox (The Glass Menagerie), and Gabe Fazio (A Star is Born). God of Carnage is running until May 20, 2023.
See the video below for what the actors have to say about the show!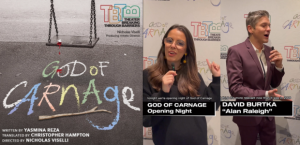 For more information and tickets: CLICK HERE
To read or license the show: CLICK HERE