by Tiara Nock, Digital Marketing Associate, Broadway Licensing Global:
On a recent seemingly ordinary Wednesday morning, makeup artist Michael "Mikey" Clifton experienced something far from the usual. Like many commuters, he was casually browsing through his Instagram feed when he stumbled upon something truly exceptional. It was none other than the makeup look he had meticulously crafted for the announcement of a particularly significant Broadway-bound musical— Boop! The Betty Boop Musical, which is now a viral sensation. Mikey described himself as "gagged" as he did not know when the photos would debut, nor the overwhelming positive response they received.
In the world of makeup artistry, some simply apply cosmetics, and then there are those like our featured guest, Michael Clifton, whose passion for visual art, illustration, and acting paved the way for an extraordinary career in the world of makeup. Hailing from a small town in rural Kentucky, this remarkable artist's journey began humbly with a rather unconventional experiment involving neon sidewalk chalk. Over the years, he honed his skills, exploring different facets of the makeup industry, from the bright lights of fashion shows to the behind-the-scenes magic of film and theatre productions such as The Lion King, New York, New York, West Side Story, and so many other shows!
Their pivotal moment came as a teenager when Mikey stumbled upon Kevyn Aucoin's iconic book, Making Faces,  which solidified his career path. Today, Mikey's work as a Makeup Artists and Designer, with over two decades of experience, brings characters from the page to life on Broadway, in film, and on the small screen in the vibrant heart of New York City. I had the absolute pleasure to with Mikey to seek his expertise and guidance. (The following conversation has been edited for length and clarity).
---
Tiara Nock: Makeup is a huge part of many people's lives. For some it is how they express themselves, for others it is a way to get a confidence boost. How do you make sure that the person sitting in your chair walks away feeling their best?
Michael "Mikey" Clifton: Makeup is a collaborative process! Before you begin any makeup, a consultation is key.  Find out what they are comfortable with and what they may not have much experience with and go from there. One of the best things about makeup…it comes off! You can always remove or revisit an aspect of the look that may be out of one's comfort zone.
Tiara: You have quite a background. Do you have a moment where you felt "Wow, I've made it"?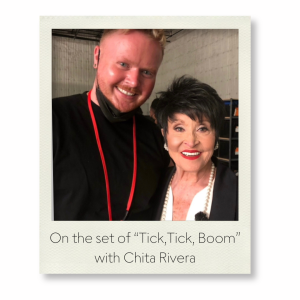 Mikey: I never truly feel like I've "made it."  Each new experience is a level up, and I'm constantly learning and growing.  However, a "pinch me" moment was when I was working on the film Tick, Tick, Boom.  It was my first job back since the pandemic, and I was the makeup artist for Chita Rivera and Phylicia Rashad for the number "Sunday."  For this particular scene, the leading man has a total Broadway fantasy in the Moondance Diner, featuring so many legends from the Broadway stage, including Bernadette Peters, Brian Stokes Mitchell, Joel Grey, Bebe Neuwirth, Chuck Cooper, and more. While getting Ms. Rivera and Ms. Rashad ready, to hear them share laughs, and their stories–just to be doing makeup again after such an emotional, uncertain time on these two ladies that I have admired so much– to have them all together on set singing was an overwhelming and unforgettable experience.
Tiara: What an amazing experience! What is the first thing that comes to mind when I ask you: "What is the best thing about your career?"
Mikey: The people!
Tiara: Are you working on any new projects at the moment? If yes, tell me all about it!
Mikey: Currently, I'm designing for Boop! The Musical.  I can't speak too much about it right now, but having a blast! 
Tiara: Now that is a fun show! I know you can't tell us much but, I would love to learn more about the process you went through to create the Betty Boop look for Boop! The Betty Boop Musical.
Mikey: I am so excited for this show; to be able to support the vision and designs of Jerry Mitchell (director/choreographer), Gregg Barnes (costumes), and Sabana Majeed (hair), who are all pure dynamite at their crafts, has been a dream.  And also a challenge, which I'm here for.  Taking such an iconic animated character and bringing her into the "real world" requires extra finesse.  Jerry has a true respect and understanding for the storytelling that costumes, hair, and makeup bring to a show.  Before we began, we had a play date with us and Jasmine Rogers, who plays Betty, to get on the same page and figure out a cohesive look.  One that conveys an established character, but it is also our own and an original.  And a look that Jasmine feels 100% in and will propel her performance.
Tiara: When I saw pictures of Jasmine Rogers all over social media I nearly jumped with joy about the look. Tell me, what were your inspirations?
Mikey: The animated Betty was at the forefront of my mind, but I also drew inspiration from performers of the 1930s through the 1950s, namely Dorothy Dandridge and a sprinkle of Josephine Baker. Which was serendipitous; At our meetings, when talking about Betty, we discovered we all had Dandridge's it-factor—beauty and charisma—on our minds before we entered the room.  Betty's look for the show is all about shapes.  There are not many hard edges or sharp lines! I leaned into round and curved shapes and edges for her eyes, lips, and contours of her face. To me, it conveys a sense of curiosity, movement, excitement, and an approachable sweetness.
Tiara: Both women you mention were pioneers in their fields, they are perfect inspirations for such an iconic character as Betty who herself, challenged norms. Speaking of iconic, what techniques did you use to transform Jasmine into Betty?
Mikey: Her natural eyebrows were flattened out using old-school theatre/drag techniques.  I laid them down using a medical grade adhesive, Prosaide, then set and concealed them with foundation and powder.  To make sure the shapes were exactly what I wanted, I did a rough sketch with a lighter-toned lip pencil.  Once I felt good about them, I went on top with a brush and black creme liner.  For her lashes, I mixed full strips and individual lashes of varying lengths, keeping the volume and length heavier at the center of her eye, rather than the corners, to amplify her doe-eyed, open look.
Tiara: In your opinion, what is the most essential step of the makeup process?
Mikey: Preparation! Make sure you understand the job you are stepping into. That includes doing your research and having all the tools and products you need. 
Tiara: What is your favorite way of removing makeup?
Mikey: Generally, I love a two-step process. It's the least taxing on the skin and relies more on nourishing ingredients to break down makeup, rather than too much aggressive rubbing and tugging on your skin.
Tiara: Can you break down the steps? 
Mikey: Step one is to start with an oil or balmy cleanser and work that over your face.  The emollients in these products will break down any stubborn, waterproof makeup you have on. Then, rinse off or remove with cotton or a warm washcloth.  It is very important to follow up with a foamy or frothy cleanser for your skin type.  This will effectively remove any makeup or oily residue. Oh, and don't forget to moisturize after to restore your skin's moisture barrier!
Tiara: Incorporating an oil cleanser into my routine was the best thing to happen for my skin! I am curious if you had to choose one thing in your kit that is a must-have for every performer or artist, what would it be?
Mikey: Invest in the right tools that work for you.  Anyone can make dollar-store makeup look like a million bucks if they have the right brushes and applicators. With proper care and cleaning, they will last for years!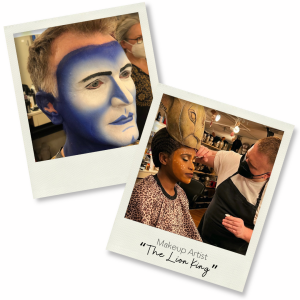 Tiara: Let us in on a secret, what are the items you will always have in your kit for your performers?
Mikey: A handheld fan. It's good for speeding up drying time on certain products and you just never know what the temperature situation will be backstage or in your dressing room! A good setting spray is a must to prevent a meltdown after any big dance moments. Lastly, a good light oftentimes, the lighting backstage can be dim and you want to be able to see what you are doing.
Tiara: At Broadway Licensing Group we often have theatre educators come to us asking questions about many aspects of theatre. Many theatre teachers purchase makeup for their performers. What is a brand that educators should have in their makeup stock?
Mikey: Preferred brands are personal to the needs of each educator and artist.  But when I'm seeking brands to keep in my kit, I will only work with those that have a fully inclusive shade range of skin tones in their lineup of face products.  This to me is a non-negotiable.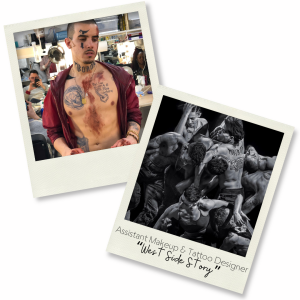 Tiara: What is your advice for someone who may not have the experience or is not confident in teaching or applying makeup for students whose skin tone isn't similar to their own?
Mikey: If you are a makeup teacher, you must have experience with all skin tones.  This is a basic fundamental and color and color theory are the essential building blocks to educating artists.  If you are an educator who isn't as confident as you would like to be, call on someone qualified to teach the class, and take that time to educate yourself.
Tiara: I agree! It is important to learn at any stage of your career and to make sure everyone feels included. What is the best way to ensure your products are sanitary?
Mikey: Consistent cleaning of brushes and tools.  Sanitize powder products between each use and use a spatula to remove any liquids or creams from their original packaging.  If you do dip into the original packaging, always use a clean, disposable applicator and NEVER double dip.  Don't forget to wash your hands often, this is also for your protection as well!
Tiara: What are your pros and cons with airbrush makeup?
Mikey: Pros: Long-wearing, durable, and you can achieve a natural, blended finish. Con's:  having to tote additional equipment, time time-consuming, and requires special cleaning.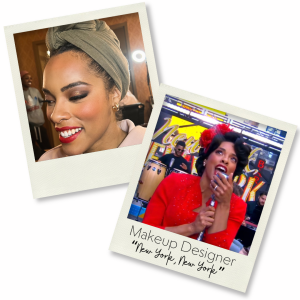 Tiara: One of the common questions educators get is "Why do I have to wear makeup on stage?" So tell me, why is stage makeup important?
Mikey: Makeup is important for stage for many reasons.  Stage lights can often wash out or alter an actor's tone or features, so makeup will help to correct this. Depending on how large the theatre is, makeup can help to define features so they can be seen from the front row to the back of the house. Most importantly, makeup can help establish character, the same way your costume and wig/hairstyle do.
Tiara: My last and final question is, what is your advice for someone who is looking to become a professional makeup artist in theatre?
Mikey: The biggest piece of advice is, like Nike says, "Just do it".  Makeup is a craft that you can read and watch tutorials about all day, but ultimately you learn by grabbing your brushes and diving in.  Find a volunteer to be your model, come up with a concept, and go for it.  And remember, it's okay to mess up…as artists, we can often be hyper-critical of our work.  But our goofs can be the best eye-openers and teachers.  When looking for people to work with, keep it diverse with skin tones and types, different ages, conditions, bone structures, etc.  As pros, we have to be equipped with the skills and knowledge to work with everyone who sits in our chair.   
Tiara: Alright, that is the end of my questions that you answered perfectly. I appreciate you for taking time out of your busy (but exciting!) day. Where can we follow your makeup journey?
Mikey: Thank you, Tiara! My Instagram handle is @MikeyClifton and my website is www.mikeycliftonart.com