Crumbs from the Table of Joy is receiving its first New York City revival since its 1995 premiere! Check out what Keen Company has to say about their production:
"Off-Broadway's Keen Company is thrilled to present the first New York revival of Crumbs from the Table of Joy by two-time Pulitzer Prize winner Lynn Nottage and directed by Colette Robert! Set against the social politics of the 1950s, this charming, funny, and moving play follows 17-year-old Ernestine Crump as she adjusts to life after the passing of her beloved mother. In search of spiritual answers, Ernestine's father relocates the family from Pensacola to Brooklyn where the Crumps must navigate a changing family dynamic, an unwelcoming neighborhood, and a shifting set of American ideals. Crumbs from the Table of Joy questions the limits of escapism and the power of everyday hope."
Running now thru April 1, 2023! For more information click here. 
To License and Bring This Story to Your Stage, click here.
Take a Closer Look at the Show: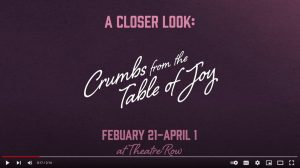 Photos: Julieta Cervantes