New Year, New Shows!
We're looking forward to all of the new musicals coming to Broadway Spring 2019.
Learn about the shows below, and let us know which ones you're most excited for!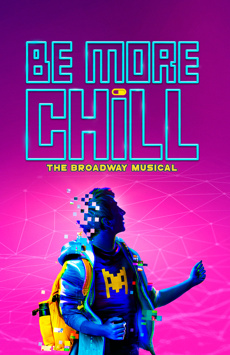 BE MORE CHILL
Score by Joe Iconis, Book by Joe Tracz
Previews Begin: February 13, 2019
Opening: March 10, 2019
About: What if popularity came in a pill? Would you take it, no questions asked? In BE MORE CHILL, achieving the "perfect life" is now possible thanks to some mysterious new technology—but it comes at a cost that's not as easy to swallow. What could possibly go wrong? Blending the contemporary with retro sci-fi, this thrillingly exciting, comically subversive, and deeply felt new musical takes on the competing voices in all of our heads. And ultimately proves, there's never been a better time in history to be yourself—especially if you're a loser…geek…or whatever.
AIN'T TOO PROUD–THE LIFE AND TIMES OF THE TEMPTATIONS
Written by Dominique Morisseau
Previews Begin: February 28, 2019
Opening: March 21, 2019
About: Follow The Temptations' extraordinary journey from the streets of Detroit to the Rock & Roll Hall of Fame—how they met, how they rose, the groundbreaking heights they hit, and how personal and political conflicts threatened to tear the group apart as the United States fell into civil unrest.
BEETLEJUICE
Score by Eddie Perfect, Book by Scott Brown and Anthony King
Previews Begin: March 28, 2019
Opening: April 25, 2019
About: It's showtime, folks! Beetlejuice is ruder, raunchier and frankly, more repellent than ever in this original musical based on Tim Burton's wonderfully demented film. Directed by Alex Timbers (Moulin Rouge!), BEETLEJUICE tells the story of Lydia Deetz, a strange and unusual teenager obsessed with the whole "being dead thing." Lucky for Lydia, her new house is haunted by a recently deceased couple and a degenerate demon who happens to have a thing for stripes. When Lydia calls on this ghost-with-the-most to scare away her insufferable parents, Beetlejuice comes up with the perfect plan, which involves exorcism, arranged marriages and an adorable girl scout who gets scared out of her wits.
HADESTOWN
Written by Anaïs Mitchell
Previews begin: March 22, 2019
Opening: April 17, 2019
HADESTOWN follows two intertwining love stories — that of young dreamers Orpheus and Eurydice, and that of king Hades and his wife Persephone — as it invites audiences on an epic journey to the underworld and back. Mitchell's beguiling melodies and Chavkin's poetic imagination pit nature against industry, faith against doubt, and love against fear. Performed by a vibrant ensemble of actors, dancers and singers, HADESTOWN delivers a deeply resonant and defiantly hopeful theatrical experience.
TOOTSIE
Music and lyrics by David Yazbek, Book by Robert Horn
Previews Begin: March 29, 2019
Opening: April 23, 2019
About: Michael Dorsey is a talented but difficult actor who struggles to find work until an audacious, desperate stunt lands him the role of a lifetime. Based on the story by Don McGuire and Larry Gelbart and the Columbia Pictures Motion Picture.
MOULIN ROUGE! THE MUSICAL
Book by John Logan
Previews Begin: June 28, 2019
Opening: July 25, 2019
About: Enter a world of splendor and romance, of eye-popping excess, of glitz, grandeur and glory! A world where Bohemians and aristocrats rub elbows and revel in electrifying enchantment. Pop the champagne and prepare for the spectacular spectacular. Welcome to Moulin Rouge! The Musical! Baz Luhrmann's revolutionary film comes to life onstage, remixed in a new musical mash-up extravaganza. A theatrical celebration of truth, beauty, freedom and — above all — love, Moulin Rouge! is more than a musical; it is a state of mind.
Tell Us Which Musical You're Most Excited For!
(function(t,e,s,n){var o,a,c;t.SMCX=t.SMCX||[],e.getElementById(n)||(o=e.getElementsByTagName(s),a=o[o.length-1],c=e.createElement(s),c.type="text/javascript",c.async=!0,c.id=n,c.src=["https:"===location.protocol?"https://":"http://","widget.surveymonkey.com/collect/website/js/tRaiETqnLgj758hTBazgd_2Fw5nxAtNDAAqLsYqzVv_2FSgbxAyQTE9ob7T5IiEBYETN.js"].join(""),a.parentNode.insertBefore(c,a))})(window,document,"script","smcx-sdk");