We sat down with actor and producer Riley Nottingham, who recently starred in the Australian premiere of Gilligan's Island: The Musical to discuss his journey with the show.
Broadway Licensing:  Tell us about how you came to produce Gilligan's Island the Musical!
Riley Nottingham: I approached Left Bauer towards end of 2016 as they have lots of theatre producing experience, whereas I have lots of TV producing experience – also because I was approved to play Gilligan by the show creators, I knew the production needed multiple producers to be able to service all facets of production. We partnered together with my television production company Humdrum Comedy and it was really good partnership – film TV and theatre combining to produce a theatrical musical based off a TV show!
BL: What was it like to also star in the production?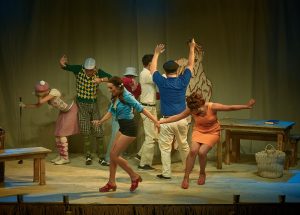 RH: There was a lot of research put into perfecting the character. A lot of watching the 3 seasons and telemovies. Also a lot of physicality work – Gilligan is very floppy so having floppy arms, floppy walk, also recreating iconic phrases, "Aye, aye, sir" or "Skipper" – the inflection Bob Denver uses I have tried to get a sense of. Also a lot of work to get the accent close to Bob, and some key expressions. Lots of work, but fun!
BL: Were you a fan of the original television show prior to getting involved with the stage production?
RH: Absolutely, much like Benny Hill show. I related to the clowning in the show, but believe it or not I was exposed to the musical before the TV show. I wouldn't call myself a DIE HARD fan, but I am a big fan!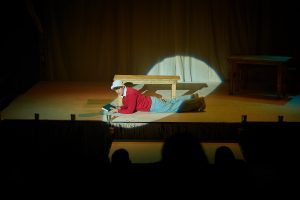 BL: Tell us about the audience response you received!
RH: We could not have asked for a more positive response to the show. We were reviewed a couple of times and all of them were fantastic!   We even made the national news shows here in Australia.
BL: Is this the last we've seen of your production of Gilligan's Island?
RH: We hope not! We're considering future versions of our production either in 2020 or 2021, so stay tuned!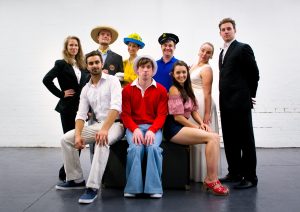 —
You can find updates on Riley's productions, and various productions happening all over the world by following the Gilligan's Island The Musical Facebook Page.
If you're interested in licensing your own production of Gilligan's Island: The Musical, apply for a license today!
—
Gilligan's Island
Roles: 5m, 4f
Acts: 2
Duration: 120 mins
About: Gilligan's Island: The Musical is a family-friendly stage musical version of the ever popular and iconic 60's TV comedy show "Gilligan's Island". Shipwrecked on a remote Pacific island, the seven castaways build huts and begin to explore their surroundings. They discover strange hieroglyphics in a spooky cave, which speak of an ancient legend. The weather gets rough, Gilligan foils the best-laid of the castaway's rescue plans…romance develops…the castaways have an out-of-this-world encounter…it's fun, wacky and entertaining with 18 original, tuneful and memorable songs.